Inclusive teaching project with University of Sussex aims to get "missing" million into school
By: Neil Vowles
Last updated: Wednesday, 13 June 2018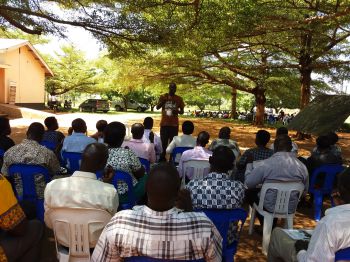 The first stage of a project developed with the University of Sussex aiming to help more of Uganda's one million disabled children "missing" from formal education to go to school is set to be completed in a matter of months.
The project, funded and led by the charity Sightsavers, aims to train thousands of teachers in Uganda in inclusive education practices in a country where the number of children with disabilities going to school continues to fall.
Dr Jo Westbrook, a Senior Lecturer in Education at the University of Sussex who recently flew out to Uganda to oversee the second stage of face-to-face training, said: "It was fantastic to see those tutors on the course beginning to understand how it would be possible to include disabled pupils in their lessons despite them often being conducted under very difficult circumstances. We are still at an early stage but we are very hopeful that the impact of this training will be felt by a great many children with disabilities over time."
University of Sussex academics have been working for more than two years with the University of Kyambogo in Uganda, to develop and implement a certificate in inclusive education that teacher educators from the country's Primary Teacher Colleges will be trained in. The certificate is designed to support them in the concepts and practical teaching skills to give their trainee teachers the knowledge, understanding and strategies to fully involve children with disabilities in lessons in a challenging environment where class sizes can be up to 80 pupils.
As well as teaching a wide range of skills to new trainee teachers, including assessment of needs, braille, Ugandan sign language, and inclusive teaching approaches such as role play and group work exercises, an outreach programme has also been designed to improve standards among more experienced teaching staff and government inspectors.
Dr Jacqui Shepherd, a Lecturer in Education at the University of Sussex, said: "We regularly teach our students about child rights and education for all but it is wonderful to be part of a project where Sustainable Development Goals are really being enacted. There are some very different perspectives around disability in Uganda but this project has the potential to really challenge stereotypes and move towards more inclusive schooling."
Guy Le Fanu, Global Technical Lead for Education at Sightsavers, said: "We are delighted to be working with the University of Sussex on this project. The technical input of Jo and Jacqui is enormously appreciated."
Dr Pamela Nizeyimana, from Uganda's ministry of education and sports, said: "Achieving Sustainable Development Goal four cannot be done without having teachers and tutors trained to support in the implementation. The inclusive education project with support from the University of Sussex and Sightsavers was timely and a dire need for our country."