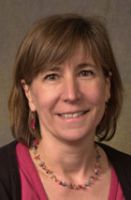 Dr
Jacqui Shepherd
Biography
Jacqui is a Lecturer in Education and is the Director of Student Experience for the School of Education and Social Work. She convenes the 'Disabled Childhoods' module on the BA Childhood and Youth and also convenes electives in 'Understanding Autism and Education' and 'Inclusion Diversity and Equity in Education'. She also leads the MA in Education special educational needs, disability and inclusion strand. Jacqui also co-ordinates the SEND provision for trainee teachers within the department and supervises research students with interests in special educational needs, autism, disability and inclusion.
Jacqui came to the education department at Sussex after a 15 year career in schools and colleges teaching English and Media Studies. In the latter part of that career she was Assistant Principal at a local sixth form college.
At Sussex, Jacqui co-ordinated the PGCE in secondary English for three years, worked with trainee teachers on curriculum developments and also manages the SEND strand offered to all trainees at Sussex. She also supervises research students in SEND, autism and inclusion.
Jacqui was funded for three years by the ESRC to study for a PhD which investigated the transition experiences of young people with autism who left special school ato go on to further education.
Qualifications include: BA in English, History and Politics, University of Exeter; PGCE in Secondary English, University of Bath; MA in Education Studies, University of Sussex; PhD in Education, University of Sussex
Membership of Professional Associations:
Fellow of the Higher Education Academcy (HEA)
Member of Autism Europe
Member of the National Autistic Society (NAS)
Member of National Association for Special Educational Needs (NASEN)
Role
Lecturer in Education based in the Centre for Teaching and Learning Research (CTLR) as well as the Centre for Innovation and Research in to Children and Youth (CIRCY)
Director of Student Experience (ESW)
MA Education Studies: Leader of the SEND and inclusion strand
Module Convenor for : Disabled Childhoods (BA Childhood and Youth);
Autism and Education Elective;
Inclusion, Diversity and Equity Elective
Co-ordinator of Special Educational Needs and Disability experience on Initial Teacher Education programmes including placements in special schools.