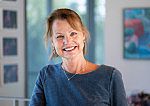 Dr
Jo Westbrook
Biography
Following 9 years of secondary school English teaching in London comprehensive schools, Jo worked as a Teacher Trainer in Uganda for Voluntary Service Overseas teaching English at a National Teacher's College and with her colleagues organised Outreach workshops for English teachers and national CPD for tutors on Gender and Education.
Back in England Jo worked as a Senior Lecturer in Education at Canterbury Christ Church University and developed the flexible PGCE across primary and secondary schools. She was also an Advisor on flexible teacher training provision with the Teacher Training Agency (now the Teacher Development Agency) before being appointed to Sussex as a Lecturer in Education in September 2003.
At Sussex Jo has taught across a range of undergraduate and postgraduate courses, and was Director of Teaching and Learning in the School of Education & Social Work from 2009-2012.
Role
Jo is a Senior Lecturer in Education based in the Centre for International Education in Department of Education, School of Education and Social Work.
She has worked on projects on education and international development in Ethiopia, Ghana, Pakistan, Tanzania and Uganda as well as researching reading and comprehension in secondary schools in England.
Her research interests centre on pedagogy, teacher education, early reading in multilingual contexts, inclusive pedagogies and non-formal/alternative pedagogies and education systems. Jo has experience of leading on mixed methods research projects in collaboration with country partners, systematic and rigorous literature reviewing and quasi-experimental methods.
Jo is the Convenor of the PhD in Education in the School of Education & Social Work. She convenes two modules,'Teachers: Policy & Practice in International Contexts' on the MA International Education & Development and 'Cross-Cultural Perspectives in Teaching, Learning & Assessment' on the Undergraduate Pathway in Education/International Education & Development.
Doctoral Supervision
Jo is supervising the following Doctoral Researchers, and welcomes PhD inquiries in areas relevant to her interests as outlined above.
(Please note that she is not directly interested in proposals that focus on primarily TEFL or TESOL.)
Current Doctoral Researchers

Exploring the use of MALL with a phonics approach to support development of literacy skills among second-chance EFL learners - Fern Levitt
Perspectives of Multilingual Malay students' Literacies Across Home and School: A Case Study - Norina Yusoff
Inclusive Education in Mainstream Secondary Schools: Meaning and Practice for Regular Teachers of Science in Zambia - Euralia Chisangano
How teachers in isolated areas of Indonesia can be supported to learn and develop effectively - Imelda Sari
Recently completed Doctoral Researchers

Globalisation and collaborative learning in Cameroon Universities (2017) - Michel Ngantchop Tchoumbou
Multiliterate Media Studies (2017) - Keith Perera
The role of EFL teachers in Turkey in the era of globalizaiton: an analytical auto-ethnography of an EFL teacher at the APRIS (2015) - Edmund Melville
Identifying attitudes leading to a feeling of global citizenship: a mixed methods study of Saudi students studying English in Higher Education in the Kingdom of Saudi Arabia (2016) - Dennis Love