A celebration of 'firsts' at the University of Sussex's summer graduation
By: Jacqui Bealing
Last updated: Tuesday, 21 July 2015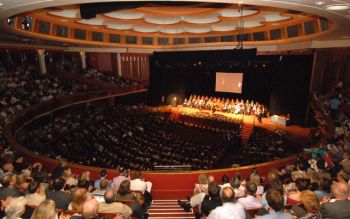 A special message of congratulations will be given to University of Sussex graduates this year who are the first in their families to achieve a university degree.
More than 3000 students are being conferred with degrees and diplomas by Chancellor of the University Sanjeev Bhaskar at nine graduation ceremonies at the Brighton Dome from 13-17 July 2015.
Among them will be 1200 who are the first to benefit from Sussex's First Generation Scholar Scheme, which provides wide-ranging support before, during and after university for those students with little or no family experience of university life.
Vice-Chancellor Professor Michael Farthing said: "We are extremely proud of all our students, from all corners of the globe and from all walks of life, who are graduating this year.
"It is also marvellous see the success of those who entered under our First Generation Scholar Scheme in 2012, to know that we have enabled and encouraged these young people into higher education, and to be able to share in their achievements."
Among the First Generation Scholars celebrating this week are: Harry Kent, who graduates on Wednesday (15 July) with a first-class honours in Biomedical Science; Shauna Crampsie who graduates on Wednesday (15 July) with a BSc in Neuroscience; Lauren Symons who graduates on Tuesday (14 July) with a BA in Media Practice; and Hannah Gray, who also graduates on Tuesday (14 July) with a BA International Development.
Also celebrating will be Sean Butchers, who graduates with a first in Physics and Astronomy after recovering from a serious head injury in 2010, and earthquake survivor Kerem Yilmaz, who created a lightweight shelter for victims of wars and natural disasters as part of his Product Design degree course.
This year's graduands come from more than 150 different countries, including Canada, Greece, Nigeria, Malaysia and Brazil. Their ages range from 19 to 65 years old.
Joining Sussex students this year are 159 medics graduating from Brighton and Sussex Medical School.
The University will be presenting honorary degrees to:
Dr Lucy Worsley Historian, television presenter and Sussex alumna, who will become an Honorary Doctor of Letters (Monday, 13 July, ceremony starts 2.30pm)
Professor Takyiwaa Manuh, Director of the Social Development Policy Division at the UN Economic Commission for Africa, who will be become an Honorary Doctor of Laws (Tuesday, 14 July, ceremony starts at 10am)
Robin Lustig Radio 4 broadcast journalist and Sussex alumnus, who will become an Honorary Doctor of Letters (Tuesday, 14 July, ceremony begins at 3.30pm)
Debbie Wiseman MBE, composer and conductor, who will become an Honorary Doctor of Music (Tuesday 14 July, ceremony begins at 3.30pm)
Professor Alice Roberts, clinical anatomist, author and broadcaster, who will become an Honorary Doctor of Medicine (Wednesday, 15 July, ceremony starts at 10am)
Dame Janet Thornton, Director of the European Bioinformatics Institute, who will become an Honorary Doctor of Science (Wednesday, 15 July, ceremony starts at 10am)
John Francis, computer scientist and developer of the QR algorithm, who will become an Honorary Doctor of Science (Thursday 16 July, ceremony starts at 10am)
Sir Simon David Jenkins, Journalist, who will become an Honorary Doctor of Letters (Thursday 16 July, ceremony starts at 3.30pm)
Jon Snow, anchor of Channel Four News, who will become an Honorary Doctor of Letters (Friday 17 July, ceremony starts at 10am)
Notes for editors