Global Studies - responding to the COVID-19 pandemic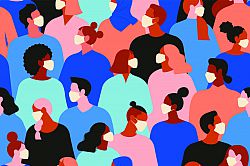 Academics across the School of Global Studies are drawing on their wide-ranging research expertise to react and inform during the current Coronavirus outbreak.
From providing specialist insight on health policy to writing pieces for the UK and international media on migrant key workers, and debating the impact the virus might have on Brexit, our School's research in Anthropology, International Relations, International Development and Geography can bring understanding, challenge and perspective to the crisis.

Anthropology at Sussex from University of Sussex on Vimeo.
Contact us

Undergraduate Programme Coordinator

Susan Chater
Arts C168
T (01273) 877185
E anthoffice@sussex.ac.uk

MA Programme Coordinators

Hannah Leigh and Clare Rogers
Arts C167
T (01273) 877686 or (01273) 678722
E globalstudiespg@sussex.ac.uk

Address

Department of Anthropology,
School of Global Studies,
University of Sussex,
Falmer, Brighton,
BN1 9SJ

For contact details of members of the department refer to the Anthropology faculty page.
SussexGlobal - the official blog of the School of Global Studies

SussexGlobal provides a space where students, faculty, alumni and associates can share research, experiences and opinions in their own words. Our aim is to provide a permanent home for these thoughts and experiences, providing lively and on-going discussions on the most pressing global issues today.
Anthropology at Sussex

We are looking for thoughtful, critical, brave and curious students who are as dedicated to making the future as we are. If that call speaks to you, come to Sussex and let's change things.
Download our leaflet:
Anthropology at Sussex [PDF 5.05MB]
Son preference in the UK
A new research project exploring generational changes in family-decision making, son preference and gender expectations among South Asian communities in the UK
Project web pages Son preference in the UK