Contact us

Arts C168
T (01273) 877185
E anthoffice@sussex.ac.uk

E global@sussex.ac.uk
T (01273) 877540
F (01273) 876513

Room C168, Arts Building C, Arts Road,
University of Sussex, Falmer, Brighton, BN1 9SJ

Department of Anthropology,
School of Global Studies,
University of Sussex,
Falmer, Brighton,
BN1 9SJ

For contact details of members of the department refer to the Anthropology faculty page.
Sussex first in the world for Development Studies for fifth year running
The University of Sussex has been ranked as best in the world for development studies for the fifth year running, in the 2021 QS World University Rankings by Subject.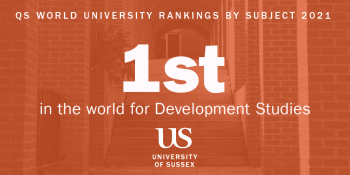 The rankings reflect the quality, impact and range of international development research and courses offered by the University's School of Global Studies, the University of Sussex Business School, Sussex Sustainability Research Programme (SSRP), School of Media, Film and Music, Centre for International Education (CIE), and the University's partner the Institute of Development Studies (IDS).
Sussex has now been number one for development studies for six out of the past seven years. What is more, all four of Global Studies' departments are ranked in the top 100 in the world and in the top 20 in the UK.
Head of the School of Global Studies, Elizabeth Harrison, said: "It's fantastic that the exceptional work in development studies carried out at both Sussex and IDS has been recognised yet again. In the School of Global Studies, our concern for social justice is reflected in our wide range of courses for both undergraduates and postgraduates, and in our world-class research. This year more than ever, the challenges of the Covid-19 pandemic have thrown this into sharp relief, exposing as they do the ways in which existing global inequalities are reinforced at times of crisis. The work of our researchers, teachers and students seeks to identify routes for positive action in the face of these challenges."
Read more: High five: University of Sussex named best in the world for development studies for fifth year running
2021 Results Day
Congratulations to all of our wonderful 2021 finalists!

We are really proud of all you've accomplished during your time at Sussex, particularly in light of this year's challenges. We are very impressed by the high quality of work you've all demonstrated and we're looking forward to properly celebrating all of your successes in person once it's safe, but in the meantime please click on the videos and links on our 2021 Results Day web-page for messages from our Head of School and Heads of Departments.

Global Studies - responding to the COVID-19 pandemic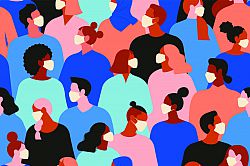 Academics across the School of Global Studies are drawing on their wide-ranging research expertise to react and inform during the current Coronavirus outbreak.
From providing specialist insight on health policy to writing pieces for the UK and international media on migrant key workers, and debating the impact the virus might have on Brexit, our School's research in Anthropology, International Relations, International Development and Geography can bring understanding, challenge and perspective to the crisis.

Anthropology at Sussex from University of Sussex on Vimeo.
SussexGlobal - the official blog of the School of Global Studies

SussexGlobal provides a space where students, faculty, alumni and associates can share research, experiences and opinions in their own words. Our aim is to provide a permanent home for these thoughts and experiences, providing lively and on-going discussions on the most pressing global issues today.
Anthropology at Sussex


We are looking for thoughtful, critical, brave and curious students who are as dedicated to making the future as we are. If that call speaks to you, come to Sussex and let's change things.
Download our leaflet:
Son preference in the UK


A new research project exploring generational changes in family-decision making, son preference and gender expectations among South Asian communities in the UK
Project web pages Son preference in the UK

As well as Anthropology, the School of Global Studies uniquely combines the departments of Geography, International Development and International Relations to address the most pressing global issues.