Seven things you might not know about Sussex
While you may know a bit about Sussex from Open Days or other students, there may be some things – such as our library cat and famous Chancellor – that surprise you about our fascinating university.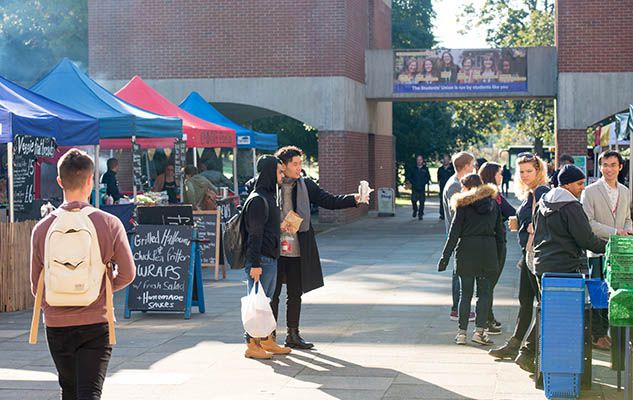 Our Chancellor is Sanjeev Bhaskar
Replacing Richard Attenborough as Chancellor in 2009, Sanjeev (star of TV and theatre shows such as Goodness Gracious Me, The Kumars at No. 42 and Spamalot) plays an enormously important role in Sussex life, from graduation ceremonies to education projects.
Hear what Sanjeev has to say about coming to Sussex, including advice on washing up rotas...
Coming to Sussex in September? Here's some advice from our Chancellor @TVSanjeev. (Including washing up rotas!) ???? #nextstopsussex pic.twitter.com/sItTJIIkVu

— University of Sussex (@SussexUni) August 18, 2017
World-famous music acts have performed on campus
We've had incredible music performances at venues including Falmer House and the East Slope Bar, from Jimi Hendrix and Pink Floyd in the 60s to the Clash and the Who in the 70s,
And this tradition has continued – with more recent acts on campus including the Kooks and Bombay Bicycle Club.
We have some very famous honoraries
The first people to be made 'Doctors of the University' were Paul McCartney and Anita Roddick (founder of The Body Shop) in 1988, with more recent honorary graduates including playwright Sir Harold Pinter and the former Finance Minister for Greece, Yanis Varoufakis.
You'll study next to nature
The South Downs, one of England's newest national parks, surrounds the Sussex campus and has beautiful walks and historic country houses.
So whether you want to get muddy on a bike trail or fancy a walk to break up the revising, make the most of the beautiful countryside right on your doorstep.
And your classes may be in a listed building
Designed by the celebrated architect Sir Basil Spence, the campus includes one Grade l building (Falmer House) and seven Grade II* listed buildings, including the Library and the Meeting House.
You can get married on campus
With lots of students meeting their future partners at university, some of our alumni have chosen to have their special day at the place that brought them together.
Many ceremonies have taken place at the Meeting House (pictured below) so keep an eye out for wedding celebrations while you study.
We have a library cat
Although this cute kitty has its own Facebook group and articles about its appearances on campus, it still remains elusive to many Sussex staff and students.
You can try and spot the cat around Library Square and Falmer House, and it has even been known to go into the library while students are working.
---
You might also be interested in: