Our partnership
Find out what you can expect from working with us.
Welcome to Sussex
Martin-Hookham Simms, Head of International Office
We are delighted that you are representing the University of Sussex abroad and we hope to develop a strong working partnership with you in the months and years ahead.
Advising prospective students carries with it a huge responsibility – ensuring that the best advice is given accurately and professionally. It can also be tremendously rewarding – I hope the resources below and the work of our international team will make this as easy as possible for you.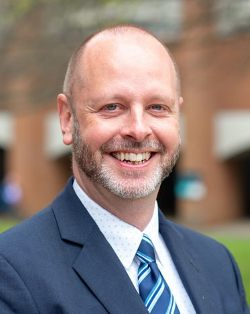 Contents
---
Our values
Our five core values shape what we, the University, say and do. We support our staff, students and alumni to create a flourishing and strong Sussex culture that continues our traditions of disruptive creativity and innovation.
At all times we strive for excellence in everything we do. Our success and distinctiveness is defined through our institutional values, and these will underpin our education, research and engagement activities.
Strategic framework
Our Sussex 2025 strategic framework is an expression of what we stand for and how we will continue to build on our success whilst reinventing ourselves for the future.

---
Expectations and responsibilities
What you can expect from us
We're excited to be working with you to represent the University of Sussex abroad.
We support you in several ways:
you will be able to contact a dedicated member of University of Sussex staff. They will respond to your queries in a timely and professional manner
we will process student applications efficiently
we will provide regular updates to you about the University, including changes to courses and new promotional materials
we will deliver training programmes, including those covering updates to UK higher education
we will promote your agency on our webpages. This will mostly be on our country pages for international students.
we will help advertise campaigns and exhibitions
we will provide a partnership approach to working together to provide the best level of service to students.
Your responsibilities
As a partner of the University of Sussex, your responsibilities are:
to promote the University in a professional and ethical manner
to maintain a standard of conduct not harmful to the work, good order or good name of the University
to submit complete, accurate, and genuine applications
to act in the best interest of the student and the University at all times. You will conduct all interactions with students in this manner
to work together with the University to ensure that advice is given to student customers in a professional and accurate manner.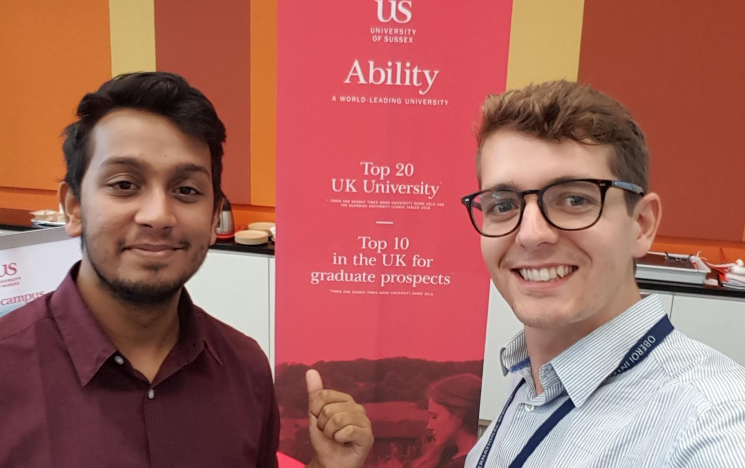 the University of Sussex at an international study fair in Mumbai.
---
Our assessment process
Students require accurate information delivered professionally from our representatives.
This is what we look for when we monitor your performance:
high standards of integrity
quality of counselling
level of proactive engagement with the University and the local market
the number of students who register for a full degree programme in one year.
After commission claims are settled, the International Officer for your region will contact you to give feedback on performance over the last year and set targets for the next recruitment cycle.
Representatives will be graded in each of the four criteria with either a 'poor', 'average', 'good' or 'excellent' rating.
Feedback will be invited to ensure that there is fairness in the grading and support measures put in place to ensure that representatives are achieving the highest scores possible.
---
Promotion
We promote the University via a number of marketing channels and we will rely on your local market knowledge to help us identify the best opportunities.
We are happy to consider joint marketing projects on an individual basis. In order to be considered, we will expect a comprehensive business proposal.
In person

Education fairs

Wherever possible, we will attend your education fairs. In markets where we work with more than one organisation, we will attend as many events as we can. It may not always be possible for us to attend every city, and we will need to be assured of the return on investment.

At events organised by an external group, such as the British Council, we will ask for assistance. In this case, we would prefer an experienced counsellor who is fully trained to talk about Sussex, rather than an interpreter employed on an ad hoc basis. While interpreters are useful, we expect that representatives will be able to confidently counsel prospective students with little intervention from us, especially at busy events.

Please send us the assistant's name as far in advance as possible, so we can arrange for them to have a name badge.

Unless requested, please do not send more than one assistant. All data collected must be sent to the International Officer in a GDPR compliant manner within five days of the exhibition.

Presentations

We are happy to deliver presentations to students as part of exhibitions and during visits to schools and colleges. In order for us to be properly prepared, please let us know in advance:

the size of the group
the educational background of the audience
if audiovisual facilities are available
if an interpreter is available.

In print

We are happy to help you advertise the University of Sussex in suitable publications in your country. We are able to produce adverts suited to both online and print publications.

General advertising

Send the details of the opportunity to the team member responsible for your country or region
Include some basic market research, for example the readership numbers and who it is aimed at as well as the kind of advert you need
Adverts must be created by the University's approved designers in order to ensure they are consistent across all markets.

Advertising attendance at exhibitions, visits to your offices

We are happy to supply copies of our logo to be used within advertisements. Our logos should not be altered in any way
We will supply all images from our media library. Do not use other images
Photographs of individual team members can be supplied on request. Please do not source images from the internet
Please send us a copy via email to approve before printing.

Online

The University website is our most important resource for connecting with potential students. We are happy to support online and mobile marketing campaigns to promote events and the University in particular. Details should be provided in line with requirements for general advertising stated above.

Social media

We understand the importance of social media. View a list of social media platforms that the University is active on.

There may be some social media sites in your region that Sussex does not currently engage with. We would be interested in running campaigns using these sites and we will consider all proposals. We would need more information regarding the nature and reach of the site.

Online exhibitions

Members of the international team are happy to participate in online exhibitions, and have frequently done so during the Covid-19 pandemic. If we take part in an online exhibition targeted at a specific region, we will encourage students to get in touch with the local representatives. This information will be presented to them as a list, with no company favoured over another.

If you are organising your own exhibition, it is important that the appropriate IT support is available to us, as well as the security of the site. A realistic breakdown of the commitment individual team members will have to make should be included in proposals too.
---
Legal aspects
There are laws that you will need to be familiar with and operate within when recruiting students on behalf of Sussex.
Information on Data Protection, Anti-Bribery and Anti-Slavery laws can be found within the Representative Agreement.
Further details regarding specific laws can be found on our General Counsel, Governance and Compliance pages: