Best places for desi food in Brighton
A Brighton desi food blog by Sussex student Bhuvam Patel.
Hey bhai-log and behen-log, welcome to the University of Sussex's first desi-blog. This contains some very tasty gems around Brighton for those of you who crave your Indian fix while you are here. I have explored my favourite places to eat and suggested a few specialities, but it is limited to personal taste so please feel free to explore anything you may like if you do visit. I am a Final Year undergraduate student, currently studying International Relations and Development.
I am from Mumbai originally but came here to study back in 2017. Brighton since, has become like a second home, where one can not only truly express themselves but also explore some of the most unique foods, music and art. I have given the Instagram handles of the restaurants along with the blog so show some love and give them a follow, they are all special in their own way and have gone through a lot of hard work and research to make sure that we get some of the best possible Indian food!
It can be daunting task finding decent Indian food in the UK but it's there if you know where to look. Hopefully this blog will make it easier for those of you who are yet to join the University of Sussex or who have just arrived!
Manjus: "Dadiji turned Spice Girl"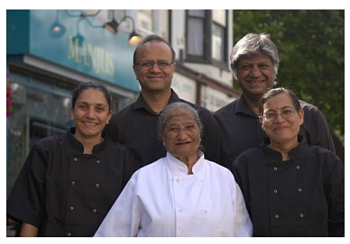 Established in 2017, Manjus is a small, family-run vegetarian restaurant just a few minutes away from London Road. Manjus is like walking into a typical Gujarati household. The family welcomes you and has a little chat before and after your meal just to ease you in and make you truly feel at home. The restaurant itself is cosy and intimate with a seating capacity of around 30 people (hence the rarity of getting a booking).
Manjus, named after head-chef 83-year-old Manjula Patel, serves traditional Gujarati food that makes every Gujju reminisce their "daal-bhaat-shaak-rotli". Manju's is open from Tuesday to Saturday serving desi lunch and dinner. Lunch service usually contains a classic Gujarati Thali, which changes based on seasonal ingredients serving classic home-cooked dishes. Dinner on the other hand has a more tapas approach with small plates of "chaat" and street-food such as Vada-pav and Pani-puri to remind you of the roadside delicacies around India.
Manju's in many ways is a celebration of the simplicity of Indian cooking and Manjuben's dream of sharing her wonderful food with Brighton.
JUGAAD -TIPS:
Booking is required as Manju's has a very loyal customer base who are recurring, so calling them in advance so maybe dropping a few Gujarati or Hindi words could give you a few "laddoo-points"
Since Manjus is a small location, they do not usually take reservations for more than four people so be aware of that
It is vegetarian and dominated by Gujarati tastes (which are as authentic as it gets)
Chilli Pickle: Adding some spice to your life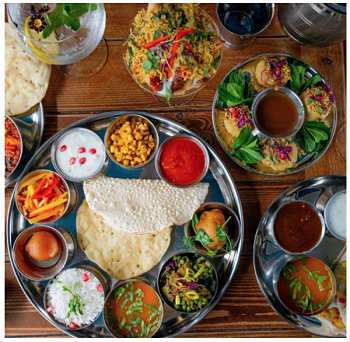 Considered to be one of Brighton's Indian gems, Chilli Pickle is one of the most popular establishments in the city situated a few metres from Brighton Dome in the city centre. The perfect place to treat yourself or your friends, Chilli Pickle offers a great variety of North and South Indian cuisine that pours over into Sri Lankan, Nepali and Pakistani tastes.
Being one of the most popular Indian restaurants, Chilli Pickle has made its name by serving a simple Thali option for lunch and going all out on their tandoori platters for dinner. Special menu items are seasonal (especially during Diwali, Christmas and Holi). Chilli Pickle also offers the option of takeaways and is also available on Deliveroo for those who either can't get bookings or are having a sit-in with the latest Bollywood movies on Netflix. The railway thali being a popular delivery item, suffices for a good meal while enjoying an IPL game or Koffee with Karan episode.
Established in 2008, Chilli Pickle can be considered as the Maharaja of Indian cuisine in Brighton due to its quick rise to success and consistency. The atmosphere is an eclectic mix of an Indian market and a British take on India with all kinds of traditional decorations complimented by quirky desi designs to really remind you that the UK can have it own desi heart. Success has been consistent with Chilli Pickle, with it previously being ranked in the Top 100 Best Restaurants in the UK by the National Restaurant Awards and getting great reviews since 2008.
JUGAAD-TIPS:
Book in advance, and I mean way in advance, if you plan to go on a weekend
Compliment your meal with some great cocktails or Kingfisher
Perfect place to get a quick bite of starters and some chai on a rainy evening to remind you of the chai and snacks traditions from home
It is heavy on the pockets but an ideal destination to take your new International friends and give the British a break from their local 'curry-house'
Food can be rather heavy so sharing is great unless you have a really good appetite
Follow Chilli Pickle on Instagram
Planet India: the green planet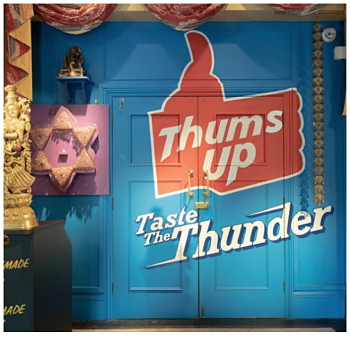 Planet India, as the name suggests is one of the most unique eateries in Brighton. Situated in Kemptown, the restaurant welcomes you in with its quirky designs and decorations. The owner, Nilesh is extremely warm and treats his customers almost as if they were his long-lost friends. The cosy atmosphere extends into the dining area, filled with family pictures that take you on a spectacular journey of India, both visually as well as on your palates.
The menu comprises of some of the classic vegetarian options a variety of vegetable curries and daals as well as a classic chaat starter option. The masoor daal and muttar paneer being the highlights, reminding you of those times at home when you were blessed by your mother's cooking. Nilesh makes sure that he keeps a thali option that is both filling and authentic, with options of Khaman dhokla and Samosa Chaats as starters and some delectable palak paneer among the mains.
It is a perfect place to take someone special, whether it is family, friends or a partner.
JUGAAD-TIPS:
Nilesh prides himself on his alcohol collection as well, especially his collection of rums and craft beers, a must-have when visiting
Bread options include, thepla, stuffed paratha and roti
Seasonal menus are a great way of tasting new experiments in the kitchen
Follow Planet India on Instagram
---
Interested in coming to Sussex?
Choose from more than 500 degrees at Sussex, a highly ranked UK university, and join a community of staff and students from over 140 countries on our Brighton campus.