Reading and research
A lot of your focus at Sussex will be on reading and researching. Finding the best resources for your subject areas and then finding the most relevant information within those resources are key skills that you will be developing. You'll be faced with a large amount of reading of complex academic texts, and have the entire Library (and the internet) to search through, which may be more than you are used to. Follow our advice here to boost your skills and confidence in these two key areas.
What do you want to learn about?
It will be beneficial for you to work through this page in its entirety. However, if you only need to focus on aspects of reading and research consider the questions below:
Reading
Reading is a major part of life at Sussex. It's an essential part of preparing for seminars, lectures and practical work, working on assessments and revising for exams.
Your approach to a text depends on your purpose for reading it and what the text is. The way you read for initial general research is different to how you read a dense theoretical passage. Read our advice for different reading methods and check out the practice material on our Canvas site.
For quick tips on effective reading, see the Active Learning blog by Cath Senker, an Academic Skills Consultant at Sussex, and professional author.
To keep track of your reading you could make use of a to-do list app such as  Trello or Microsoft To Do (previously Wunderlist). These apps allow you to set reminders for yourself that include a date and time stamp. If you decide to read a text later, you could set a reminder.
For a free text-to-speech online reader, try Natural Reader or Dictation.io (can only be used with Chrome).
The six sections below will help you understand the key aspects of good reading techniques and include tips and guidance.
Research
The sections below will help you to start searching effectively for high quality academic literature and include tips and guidance.
How to start searching for information
Before you start searching, you need to prepare your search. Think about what you want to find out.
Analyse your topic or research question and identify suitable keywords, phrases and synonyms (alternative words that have a similar meaning) that will enable you to find relevant sources when searching.
Once you have considered all the relevant search words and synonyms, you will need to connect them together in the search engine or database. This can be done using search connectors, known as Boolean operators. See the Boolean Searching page to learn how. Combining your search words using connectors can improve the relevancy of your results.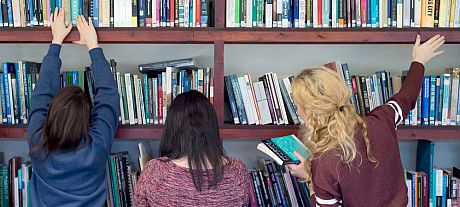 Sussex students searching for books in the library
Other information you will need


Activity: Strategy to Search
Put the sentences below in the correct order to help enable you to create the strategy to search online resources most effectively (there is a text only version below the activity):
Text only version for the activity above (with answers)

The six sentences below are in a random order. Think about what order these sentences should be in to help enable you to create the strategy to search online resources most effectively.

a. Search appropriate databases and online resources

b. Combine keywords using connectors and wildcards

c. Save your search and material found

d. Make a list of alternative terms

e. Identify your topic's key words/terms

f. Refine search results using database search filters

Now the six sentences below are in the correct order:

1. Identify your topic's key words/terms

2. Make a list of alternative terms

3. Combine keywords using connectors and wildcards

4. Search appropriate databases and online resources

5. Refine search results using database search filters

6. Save your search and material found