News
Local LGBTQ+ literature festival returns for second year, with support from Sussex staff
By: Stephanie Allen
Last updated: Thursday, 28 January 2021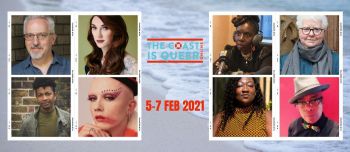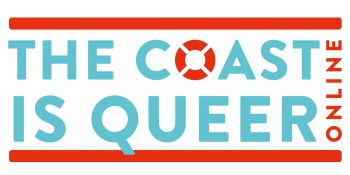 The Coast is Queer, Brighton & Hove's LGBTQ+ literature festival, returns next month (5-7 February) with a programme of online events celebrating queer lives and writing.
Coinciding with the start of LGBT+ History Month, the festival will bring together writers, performers, academics, activists and readers for a weekend of online in-conversation events, workshops, films and discussions.
Dr Samuel Solomon, Co-Director of the Centre for the Study of Sexual Dissidence at the University of Sussex, helped to plan the festival, organising a panel on queer libraries which features two staff members from the University library, Alice Corble and Ciaran Clark.
Dr Solomon said: "I'm thrilled to co-sponsor this dynamic festival for the second year running: the first festival was a smash and was enjoyed by many students and staff at Sussex alongside local communities.
"It's always a privilege to work with and learn from local heroes New Writing South and Marlborough Productions. Our collaborations are always opportunities for students, staff and community to think together about the role of writing, reading, and sharing books in LGBTQ+ life: if this sounds appealing to you, don't miss this!"
Now in its second year, the festival is a collaboration between New Writing South and Marlborough Productions, funded by Arts Council England. It is supported by both the University of Sussex and the University of Brighton.The inaugural festival was a huge success, attended by more than 1,000 people and hosting 40 writers over four days.
This year, speakers include Sussex alumna Valeria Mason-John (I Am Still Your Negro, Detox Your Heart), Douglas Stuart (2020 Booker Prize winner for Shuggie Bain), Val McDermid (Still Life, The Wire In The Blood, Broken Ground), Alan Hollinghurst (The Swimming Pool Library, The Line of Beauty, The Stranger's Child) and Juno Dawson (This Book is Gay, Margot & Me), among others.
Sara Beadle, Programme Manager at New Writing South, said: "The Coast Is Queer brings together writers, academics and activists for a weekend of in-conversation events, workshops and discussions that really celebrate queer lives and writing. Enjoy this rich programme of events from the comfort of your own sofa, and to ensure the festival really is for all, events are 'pay what you can'."
For more information on the festival, and to watch the events online, visit www.coastisqueer.com. With the exception of the writing workshop (£5), tickets are free of charge or pay what you can.