News
The Flowering of Flint: Peter Abbs tribute
Posted on behalf of: School of Media, Arts and Humanities
Last updated: Friday, 15 January 2021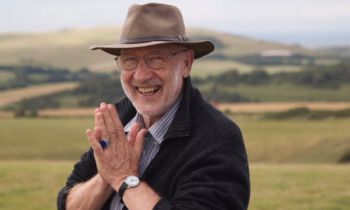 Peter Abbs, Emeritus Professor of Creative Writing at the University of Sussex, sadly passed away in December 2020, aged 78.
The Flowering of Flint: Peter Abbs tribute
"And were you happy when you wrote this?"
Looking back, I feel embarrassed at the question. It was 2007 and I was studying on the Sussex MA in Creative and Critical Writing. I was talking to Peter about his first poetry collection, For Man and Islands. The poems were written from a time in Peter's life when he had taken his young family to Wales to live largely off-grid. He made a (precarious and penurious) living by writing and editing. I found the whole notion, and the poems that came from that notion, both exhilarating and intimidating.
Of course, my question was an inappropriate one for a student to ask a tutor. Peter, wisely and kindly, fumbled around for some words that avoided an answer whilst also avoiding censure of the prying student. However, this did not stop our becoming friends and as we did, I came to know more of Peter's work which touched, at his death, six decades.
Peter was a working-class academic, his father a bus driver and his mother a shop assistant. His natal landscape of Norfolk, with its oak woods and mercurial coastline, were shadows and inflections frequently found in his work. Peter understood and was deeply interested in how the circumstances one is born into shape who we are and who we can be. This is seen most obviously in his extensive work on the history of autobiography and his tracking of how Western notions of self and selfhood have altered since the pre-Socratics. In recent years Peter published excerpts and chapters from his as-yet unpublished monograph The Story of the Self in The London Magazine and Philosophy Now.
One marked thing about Peter was his abhorrence of unreflexive groupthink and uncritical adherence to tradition. In his essay collection Reclamations he claimed: "[I]f, say, a person only hears clichés during the formative period of his development, he will inevitably speak in clichés and while he speaks in clichés, his mind will never be able to penetrate beyond the trite and commonplace."
This is a particular that reflected Peter's universal: that education was the gateway which allowed one to think, challenge, and to understand oneself and others. Naturally then, education not aimed at these things was not serving the human being.
Influenced by Suzanne Langer's work on aesthetic engagement and what this meant for individual emotional and intellectual development, Peter was a critic of government educational policies in works such as Against the Flow, A is for Aesthetic and Proposal for a New College (which Peter himself called "overly romantic"). As a critic, though, he was an ardent believer in our educational systems and their potential to aid human flourishing.
For Peter, there was little gap between 'the work' and 'the life' and he took what could now be seen as a ficto-critical approach in Against the Flow, melding more formal discussions of art, philosophy and education with vivid autobiographical vignettes.
Considering it now, this was perhaps the reason I felt emboldened in 2007 to ask Peter that inappropriate question about his happiness. Peter somehow held out the promise of knowing him better. Indeed, I did come to know him better. And, many years after asking it, I did get an answer to my question.
Go well, Peter.
Craig Jordan-Baker
Sussex alumnus and Senior Lecturer in Creative Writing at the University of Brighton