News
Children's literature book award for Hannah Field
Posted on behalf of: School of Media, Arts and Humanities
Last updated: Wednesday, 14 July 2021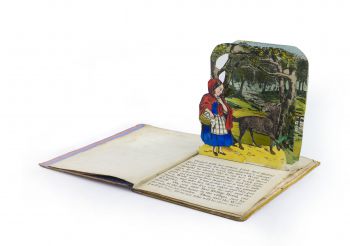 Dr Hannah Field's Playing with the Book: Victorian Movable Picture Books and the Child Reader has won the Children's Literature Association Book Award for 2021, recognising an outstanding book-length contribution to children's literature scholarship and criticism.
Hannah's book is about the explosion of novelty and movable picturebooks for young children – books with flaps to lift and tabs to pull, pages that fold out, pop-up scenes, and mounted mechanical toys – in the Victorian period. She studies how these elaborately designed works raise questions not just about what books should look like but also about what reading is, particularly in relation to children's literature and child readers.
Hannah explains: "When I began looking at these rare and beautiful books, I was interested first of all in the relationship between pictures, words, and the form of the book. I was thinking about the book as an object that can be touched and held as well as a carrier for ideas and stories.
"But then I was so struck by what child readers had done to movable picturebooks before they reached the archive. They ripped and tore them, coloured them in, and even repaired them in strange ways. So I had to write about that, too, and about how young people's physical interactions with books can change our picture of compliant child readers who accept what books (and adults) have to tell them."
Playing with the Book's extensive illustrations, including 16 colour plates, were made possible by funding from the Paul Mellon Center for British Art and the University of Sussex.
The book has been widely reviewed, with the Times Literary Supplement praising its ambition: "Field makes a significant contribution to what seems a niche topic, not least in her argument that it shouldn't be niche at all. At a moment when the focus of book history has shifted towards embodied reading and 'doing things with books,' such books – often bearing the traces of clumsy little hands – have a new kind of resonance."
The book has also led to invitations to speak at the Children's Books History Society, the University of Birmingham, and the Fondazione Tancredi di Barolo in Turin.
Hannah received her award at a virtual prizegiving at the Children's Literature Association annual conference in June. She said: "I have always been an admirer of the high standards for studying and writing about children's books that are set by the Children's Literature Association, so this honour means a lot to me."