News
Media, Arts and Humanities student podcast
Posted on behalf of: School of Media, Arts and Humanities
Last updated: Tuesday, 24 November 2020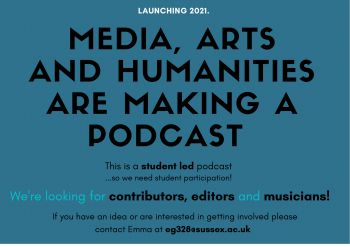 Email sent to all students in Media, Arts and Humanities from the Student Connectors in the School:
Hi all,
I'm emailing on behalf of the MAH student connectors. If you've not heard of us before, don't worry, we're still relatively new – just like the school! In total, there are twelve connectors for Media, Arts and Humanities working across three subgroups. It's our aim to create a sense of identity and community within the school, but for that to happen we need your help.
So… We are creating a podcast!
The provisionally named 'On the Record … with M.A.H' podcast will be a student-led and student-focused MAH podcast and we want you to join us. We're looking to launch the podcast in January 2021, so we need to find students interested in working on this project. At present, we're aiming for a fortnightly release, totalling between 10-12 hours of content overall, but this all depends on demand!
We're looking for:
CONTRIBUTORS:
We want content from contributors across all MAH disciplines. Contemporary or historical, it doesn't matter.
As the Media, Arts and Humanities school we want to target these areas of interest, but we also want to create a forum for MAH students to talk about all of their issues or passions. It will be a relaxed and creative environment, so we want you to have fun – whilst making the best podcast we can.
If you don't have any ideas, but would like to get involved, please get in touch (we're busy working on segment ideas as we speak).
However, we're open to all suggestions and ideas. Are you concerned about the arts job-market post-university? Do you have a gripe with the university that you'd like to air? Is there a historical event you'd love to debate? Are you a drama student with a great idea for a short podcast-play? Would you be willing to be our podcast announcer for the intro and outro? Get in touch!
EDITORS:
You will be the unsung heroes of the podcast… although we will name check you in the credits.
If you have editing experience please let us know (we're planning to use Audition if possible).
If you don't have editing experience but would like to have a go, still let us know! The podcast is a work in progress so please don't be discouraged if you don't have relevant experience – enthusiasm is key!
Ideally, we'd like half a dozen editors, so we don't have to rely on just one person.
MUSICIANS:
We need a jingle!! We want music to create an identity for the podcast that can be used during the introduction, end credits and to marry all the segments together.
If interested please email Emma at eg328@sussex.ac.uk with the following:
Name, year and subject
Role you'd like to undertake (contributor, editor, musician)
Best,
Emma Green
Sara Roesch
Saskia May
Will Powell