News
Sussex academic directs film about one of UK's first women film directors
By: Tom Walters
Last updated: Tuesday, 7 December 2021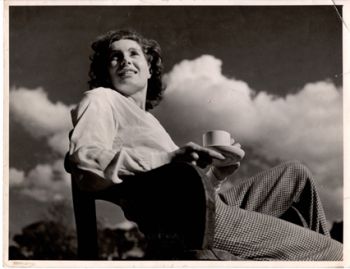 A new feature documentary which tells the story of one of the UK's first women film directors will be streamed as part of the Cinema of Ideas series from the Independent Cinema Office.
Independent Miss Craigie, which will be showing between 3 December – 16 December, is directed by Professor of Film, Lizzie Thynne and uncovers the remarkable career of Jill Craigie (1911-99), a pioneering woman director in the 1940s and 50s, obscured by her subsequent profile as the wife of former Labour Party leader, Michael Foot.
Craigie's own words in interviews and a narration by Hayley Atwell, are combined by Professor Thynne with extensive clips from Craigie's films, including her landmark film about the Plymouth plan, The Way We Live (1946) and a wealth of other archive. Thynne's film showcases the work of this charismatic woman who tackled new subjects for the cinema with a unique blend of drama, polemic and often humour.
The documentary follows her determined struggles to get her films made and distributed in the 1940s and 50s at a time when few women could break into directing, because of the sexism of the film industry. At the age of 83, Craigie made her last film with Foot, Two Hours from London (1995), prompted by her anger at the renewed ethnic cleansing taking place in former Yugoslavia in the Serb attacks on the Croats.
Starting out as a scriptwriter in the late 1930s, she managed to persuade J. Arthur Rank, the Britain's biggest movie mogul to fund two films, including The Way We Live, 1946, with the support of maverick producer, Fillippo del Guidice (who also produced Olivier's Henry V). Rank was not known for producing documentaries, but as Craigie said, 'wanted to do something to support the war effort'. The Way We Live campaigns for Abercrombie's innovative plan to rebuild Plymouth after the Blitz to be finally implemented after long delays when the city remained in ruins.
Independent Miss Craigie, shows how Craigie garnered opinions on 'the plan' from Plymothians and incorporated these into a script performed by a local cast to create a distinctive drama documentary unlike other documentaries of the time. As the Sunday Graphic reported on 2 June 1946, it 'has the plan as its hero, the city as its heroine, and the citizens as its supporting cast'.
Independent Miss Craigie probes the intersection of Craigie's professional and personal life, so important in many women's careers. Craigie was committed to supporting Foot's political career, ardently sharing his socialist politics. The double standard of morality prevalent at the time and, often still today, also meant that Craigie kept quiet for 40 years about her rape by acclaimed author and family friend, Arthur Koestler in 1951.
As a gesture of hospitality when Foot was away, she took Koestler around the pubs near her home in Hampstead, only to be attacked by him after he then insisted on coming back to her house. Knowing that that it was highly likely that she would be seen as to blame for having him back after drinking with him, she did not bring charges or even tell Foot at the time about a traumatic event which no doubt undermined her.
Associate Producers, Hollie Price and Adele Tulli, unearthed fascinating documents on Craigie's life and career, including from The Women's Library, and BFI National Archives, to show how Craigie negotiated the obstacles, as well as opportunities, to direct her films, which provide a fascinating record of Britain's recovery from World War 2.
A special find was a suitcase of Craigie's lent to Thynne for the film's research. Like the work of many women artists, including Evelyn Dunbar, the only salaried woman war artist, whom Craigie approached for her ground-breaking arts documentary, Out of Chaos, 1944, it had been tucked away since Craigie's death. The suitcase, which is shown being unpacked in the documentary by the young 'Craigie' (Dr Mimi Haddon, Senior Lecturer in Music at Sussex), contained the production folder for Out of Chaos, and bundles of correspondence with some of the leading painters who appeared in it, particularly Paul Nash and Graham Sutherland.
Out of Chaos is the first film to explore artists' working methods through charting the research for and creation of their paintings, as a process of labour similar to that of other workers struggling to keep the nation going in wartime.
You can catch a Q and A with Director Lizzie Thynne, Ros Cranston (BFI Non-fiction curator) and Director Penny Woolcock (Ackley Bridge, Exodus, Tina Goes Shopping) today (7 Dec) at 6.30pm.
Independent Miss Craigie was supported by the Arts and Humanities Research Council as part of the project Jill Craigie Film Pioneer