News
Advance Alzheimer's research by helping further understanding of the link between brain activity and memory
By: Neil Vowles
Last updated: Friday, 1 October 2021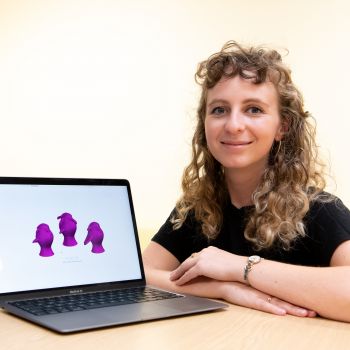 Volunteers are being encouraged to test their memory as part of a project hoping to develop new preventative strategies for Alzheimer's.
The University of Sussex and the Brighton and Sussex Medical School are looking for members of the public to be involved in a research project, currently being supported by Alzheimer's Society.
Building on the knowledge that aberrant patterns of brain activity contribute to the progression of early Alzheimer's Disease, the researchers hope to identify new strategies for reducing the risk of future dementia from much earlier in the lifespan.
Alzheimer's Disease is the biggest cause of dementia in the UK, currently affecting over 850,000 individuals – research to prevent this neurodegenerative disease impacting future lives can achieve real benefit.

The Alzheimer's Society estimates that there are more than 26,000 people aged 65 and over living with dementia in Sussex.

Researchers hope the study will help them understand if differences in the brain activity of people who carry a gene variant linked to Alzheimer's, the APOE 4 gene, contribute to early differences in memory, and whether brain activity can be modified to improve memory performance in those at risk of future dementia using very low doses of a readily prescribed, existing medication.

The study is looking for healthy adults, aged either between 45 and 65 years or between 18 and 30 years, to volunteer to participate in research investigating the impact of brain activity on memory performance across different ages.
Dr Claire Lancaster, Research Fellow in the School of Psychology at the University of Sussex, said: "Understanding why certain people are vulnerable to future Alzheimer's Disease and what we can do to mitigate this risk from early in the lifespan is incredibly important, especially whilst treatments to halt or reverse neurodegeneration are limited.
"Dementia research can only move forward with the help of volunteers which is why we're keen to get as many members of the public involved as possible. There's still a long way to go for dementia research, but it's wonderful to see how much progress has been made in recent years as public awareness of this condition grows."
Phase one of the study will ask participants to provide an inner-cheek swab to check for copies of a genetic risk factor for dementia. Although the APOE 4 gene is the strongest genetic predictor of future Alzheimer's Disease, not everyone who carries this genetic variant goes on to develop dementia. As such, participants will not receive information about their genetic risk for Alzheimer's Disease as part of this study.

In phase two, volunteers aged 18-30 years, will receive a 60-minute brain scan during which they will be presented with a selection of memory tasks.

For participants aged 45-65 years, phase two consists of an eight-week study during which volunteers will be asked to take a very low dose of a commonly prescribed medication for two weeks and a placebo for two weeks under double-blind conditions, separated by a four-week break from the project.
During each two-week drug regime, this age-group will be asked to complete smartphone-based memory tasks for five minutes a day, every day. At the end of each two-week drug regime, volunteers will be asked to attend a two hour study visit at the University of Sussex, during which we will ask them to complete an MRI brain scan, further memory tests and provide a blood sample.

Participants will be required to visit the University of Sussex campus but will be reimbursed for time and travel and will receive a picture of their brain.

Anyone interested in participating in the study should contact claire.lancaster@sussex.ac.uk for further details before the end of the calendar year.