News
"I want to debunk the mystery of quantum physics"
By: Rebecca Bond
Last updated: Tuesday, 10 May 2022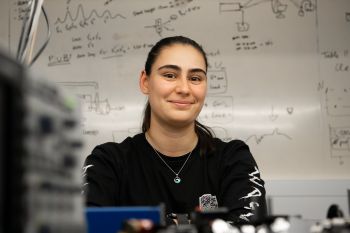 Having spent time competing in horse dressage, open mic nights and becoming a world champion powerlifter, PhD researcher Poppy Joshi is no stranger to the limelight. This time around though, she will be ditching the Lycra and saddle to don a white coat as one of the speakers for Brighton's annual Soapbox Science event on Saturday 21st May.
"I didn't take what is considered a standard path to studying physics. Whilst the subject always fascinated me, I didn't meet the maths A-Level requirement, so initially came to Sussex for the Life Sciences Foundation Year course. However once enrolled, I soon realised that physics was attainable despite my mathematical blip, and I quickly jumped ship to the Physics Foundation Year. I progressed onto the Physics BSc where in my first year, I discovered quantum physics and lasers and found my true passion. I met the Quantum Systems and Devices group whilst completing a summer project in their lab. Since obtaining my first, and finding I can actually do maths, I am now a fully-fledged member of the group studying for a PhD.
"I have always been one to get involved. I have been participating in outreach right from when I started at Sussex as an undergrad and have since given talks in about 10 schools. I signed up for Soapbox Science because it is a great way to do the same but for the wider public. I am passionate about widening participation, ensuring people don't feel held back and know that physics is for them too.
"Before studying physics, I convinced myself that I simply wasn't cut out for it. Thankfully I now know otherwise, but it does explain why, to so many, quantum physics is seen as a mathematical construct with no real-world bearings. Soapbox Science is an opportunity for me to debunk this mysterious science and tell the public how the effects of quantum physics can be seen all around and be used as a tool to answer some of life's big questions.
"In the lab I work in, we are developing quantum sensors. I will be telling people about magnetic fields and how using quantum technologies can help us in detecting them. This may all sound like fantasy, but we are actually using these sensors to solve problems relating to healthcare and climate change. This includes developing next generation brain sensors, battery scanners and flexible touch screens. I will be bringing some fun interactive things to play with involving magnets too.
"I feel very passionate about my subject and hope people will walk away knowing a little more about magnetic fields, why they are important and feel inspired to find out more about quantum physics and maybe even choose to study it."
Poppy Joshi is currently in her first year of a quantum physics PhD on advancing imaging for BEC microscopy in the Quantum Systems and Devices group at the University of Sussex.
Soapbox Science Brighton is taking place on the seafront by the i-360 on Saturday 21st May from 11-2pm. Stop by and have a listen to the fascinating science being shared by women and non-binary researchers across multiple disciplines.
The Soapbox Science team are looking for volunteer helpers on the day, so do sign up.
Further information: https://www.sussex.ac.uk/research/centres/quantum-systems-and-devices/