News
NanoteC conference series comes home to Sussex
Posted on behalf of: Materials Physics
Last updated: Monday, 2 October 2023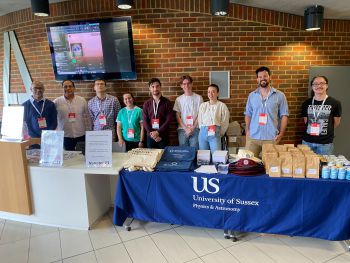 The last week of August saw the return of the NanoteC conference series to its birthplace at the University of Sussex. This formerly annual event, originally organised through the British Carbon Group and hosted at Sussex with their support by Sir Harry Kroto and Professor Malcolm Heggie, was last held on campus in 2018, twenty years after the first meeting in 1998.
After an enforced break of some years during the lockdown, it was decided to restart the series and bring it back to Sussex again. NanoteC23 was hosted by the Materials Physics group in MPS and covered four days, 28 August – 1 September, comprising a full schedule of talks, poster presentations – and a cricket match! More than 50 delegates attended, many travelling from the USA, Asia and destinations in Europe to join.
Professor Alan Dalton, who attended the very first NanoteC conference and now leads the Materials Physics group at Sussex, said: "NanoteC18 was a watershed occasion for the Materials Physics group, having only recently set up new labs at the University of Sussex. It helped to establish us here and to reaffirm the position of Sussex as a key player in the research and development of nanotechnology.
"After such a long break, it was fantastic to welcome colleagues in the field from all over the world and find out what everyone else has been doing during the years apart. We all left re-energised after a packed and successful conference."
The NanoteC conference series is now firmly back on track and assured of a future, with NanoteC24 already in the pipeline, to be hosted at the Centre de la recherche scientifique in Nantes, France, by Chris Ewels (University of Sussex 1999-2002) and an offer to host NanoteC25 in Austria.
The British Carbon Group, Beilstein Journal of Nanotechnology, Advanced Material Development and Attonuclei were sponsors.
Further information: https://www.nanotec23.com/