News
Reflecting on the Sussex Festival of Ideas
Posted on behalf of: School of Media, Arts and Humanities
Last updated: Thursday, 24 June 2021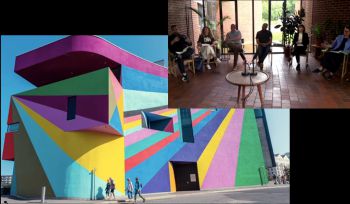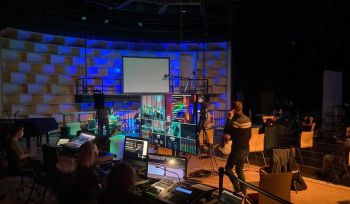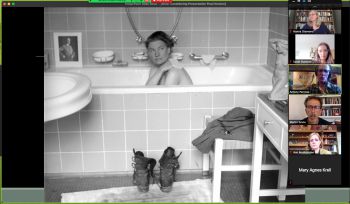 Ed Hughes, Chair of the Sussex Festival of Ideas steering group, reflects on the inaugural festival:
Billed as "celebrating a host of contemporary ideas around documentary and film, music and creative practice, poetry and language, as well as the vital role of our local cultural institutions", the inaugural Sussex Festival of Ideas took place from 9 to 12 June 2021.
The festival was conceived and organised by a team of staff and students within the School of Media, Arts and Humanities, led by Prof Mary Krell as Artistic Director. Its vision was to celebrate the research and ideas of the School's staff and students in local, regional, national and global contexts.
The festival programme included 38 events (5 at the launch and 33 across the festival itself), which were all streamed live online. Several performance and panel events also took place with small, socially distanced in-person audiences, thanks to our collaboration with Attenborough Centre for the Creative Arts, the festival's main partner.
Over the course of the festival we had over 1,000 attendees. This is a great result for any festival whose first year took place during a global pandemic. Audience engagement typically doubles for events available online afterwards and we hope to attract at least another 1,000 unique views. During the four days of the main festival there were over 4,000 unique visits to its website (up from just over 1,000 at the launch). One of the benefits of having the whole festival available online was that it gave us the opportunity to record events. There have already been several requests to view the archive recordings. We are currently liaising with everyone involved and in the coming weeks recordings will be posted on the festival website.
We also used the festival to showcase undergraduate student work in Media Production, Music and Drama, and we are adding Journalism in the coming weeks. This is the first time the showcases have been brought together in this way and something we will build on in the future. Please check out this student work, as it is of a very high standard.
Speaking about the relationship between the festival and Attenborough Centre for the Creative Arts, Laura McDermott, Creative Director, said: "Attenborough Centre for the Creative Arts is an integral part of the vision for Media, Arts and Humanities at the University. We support public engagement and connections between research and creative practice. It was good to collaborate with a wide range of colleagues and students, especially in this first year when the Festival of Ideas was being shaped and beginning to find its identity. The Festival of Ideas has an exciting future as a regular fixture in the annual calendar of events at the University."
The diverse and lively programming, crossing and connecting all subject areas across the School, the engagement with and critical reflection on practice, and the investment in building up partners, are all likely to have been significant factors in contributing to success. With support from the School's Higher Education Impact Fund (HEIF), an artist residency, Critical Pulse, was established and two external consultants, Marina Norris and Erin Barnes, have been engaged as Knowledge Exchange Framework (KEF) fellows to contribute to evaluating the festival and its potential for expanding reach and making new connections in the community. In addition, a postgraduate researcher (PGR) was recruited to report on cultural impacts, and three further PGRs were engaged to provide reflective reviews on selected events. Part of the festival review process will also consider its next steps and routes to sustainability.
The festival encompassed a wealth of topics and formats, including two interactive workshops on the value of creative writing to learning and mental health, and exploring online representations. Panels of Sussex staff and representatives of partner organisations discussed storytelling and place, 'home' and identity, the aesthetics and poetics of black women's photography and research, and how to navigate the creative industries, the role that the Media, Arts and Humanities plays in relaunching and rebuilding culture in post-pandemic spaces, how universities, schools and museums can work together to address colonialism and its legacies, the limits and possibilities of hashtag culture, how to navigate the risks of cultural and political co-option, and how to successfully lobby for change. The Creative Practice Symposium, organised and hosted by the Centre for Research in Creative and Performing Arts, brought together practice contributors to the festival to reflect on their work and its construction.
Keynote presentations included the School's Stuart Hall Foundation Fellow, Rebecca Omonira-Oyekanmi, who reflected on the vital role of investigative journalism in the context of diversifying representations and stories told about race relations and racial injustice, and the Dean of the School of Media, Arts and Humanities, Professor Kate O'Riordan, who set out her vision for media, arts and humanities as a global force for good, contributing to work on environmental risks, injustice, experimental humanities, digital, and the human, and non-human, experience.
There were great contributions from students with many, including Emma Green, one of our Student Connectors and a member of the steering group, involved in presenting, production, technical support, reviewing and co-creation with academic staff of many of the panels.
Thank you to everyone who contributed, supported and participated in the first Sussex Festival of Ideas, particularly to the 2021 team: Mary Krell (Artistic Director), Jason Price (Practice Curator), Ben Burbridge (Partnerships), Margaretta Jolly (Keynotes), Emma Green (Student Connectors), Laura McDermott (Attenborough Centre for the Creative Arts), Carol Watts (Research), Beth O'Leary (Attenborough Centre for the Creative Arts Technical Lead), Jessica Horne (Festival Producer), Ian Tout (Communications), Adam Staff (Festival Technical Lead), Alfie Newman, James Burns (Technical Support), Ed Hughes (Steering Group Chair).
Events in the 2021 Sussex Festival of Ideas: