News
Find out more about the Sussex Festival of Ideas
Posted on behalf of: School of Media, Arts and Humanities
Last updated: Monday, 7 June 2021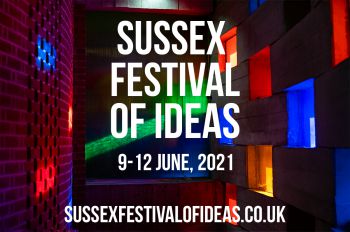 In its inaugural year, the Sussex Festival of Ideas celebrates the brilliant work of the newly formed School of Media, Arts and Humanities, and aims to highlight the importance of these subject areas in a wide range of exciting events.

The festival starts on Wednesday 9 June with the following events:
Day two of the festival (Thursday 10 June) features:
In Rave Today! a panel of Sussex students and scholars including Dr Ben Burbridge, Dr Malcolm James, Professor Lucy Robinson, and Dr Chris Warne will explore the rich and varied relationships between UK rave and academic research.
At 11.30 am we'll be exploring the language and art of protest in Powerful protest: how does language enhance activism? with a panel including Prof Margaretta Jolly and Dr Christopher Warne.
Our second creative writing workshop, Algorithmic Autobiographies (and Fictions): Writing with your Digital Self at 1 pm allows participants to meet, greet and get creative with their digital and algorithmic selves.
Also at 1 pm a panel of industry experts from some of our partner organisations, Towner Art Gallery, Charleston, Audio Active, Photoworks and What Next? Brighton and Hove will be exploring the possibilities and challenges that face the cultural sector in the wake of the Covid-19 pandemic in The Cultural Sector after Covid.
At 3 pm Sussex History alumnus Adam Sisman and author biographies covering a range of historical and literary figures will explore biographical topics and issues in Living with my Subject: Dr Johnson, Hugh Trevor-Roper, John le Carré, and Me.
Also at 3 pm Wasi Daniju, Tendai Lewis, Jade Hylton and Rebecca Omonira-Oyekanmi will be sharing personal journeys and insights from their respective crafts to discuss the meaning of representation, identity, loss and hope in art, photography, journalism and community organising in Finding Home: How do black communities find spaces to thrive, create and survive?
Our final panel discussion of the day will be Considering a Life of Artistic and Political Liberation looking at the life and work of the surrealist photographer Lee Miller whose archive is located at Farley Farm in East Sussex. This discussion at 5 pm will feature the festival artistic director Professor Mary Krell along with academics from Queen Mary and Cardiff Universities chaired by Professor Martin Evans from Sussex.
Day two concludes at 6.30 pm with an evening of performances and sharing of practice-based research from the Music department. Sounding Spaces, Technologies and Each Other will present work that explores core research threads in Music at Sussex including feedback systems, performance technologies, sounding objects, live coding, pop music performance and songwriting, space/place, and improvisation
Day three of the festival (Friday 11 June)

The final day of the festival (Saturday 12 June) includes:
Also taking place throughout the festival there will be the opportunity to view screenings of films I Get Up which reflects the collective work of clients at a day centre for people experiencing homelessness and attempts to give voice to these often silenced people, and on Friday 11 June only The Disappearing of Vincent Gambini which was made entirely in lockdown, this new film combines sleight-of-hand magic with the search for contact at a time of isolation.
There is no need to register, you can watch all of the events live on the Sussex Festival of Ideas website.