News
Events to launch the new Sussex Festival of Ideas
By: Ian Tout
Last updated: Monday, 19 April 2021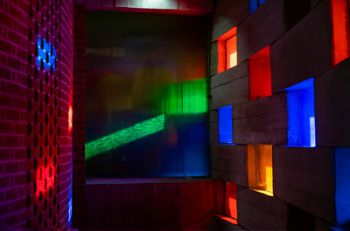 Join in an afternoon of online events to mark the launch of the new Sussex Festival of Ideas.
The 2021 Sussex Festival of Ideas is a free, four-day festival celebrating the work of the newly formed School of Media, Arts and Humanities. From 9–12 June, a dynamic and engaging programme of online talks, events and activities will be hosted on the Sussex Festival of Ideas website. In its inaugural year, the festival celebrates a host of contemporary ideas around documentary and film, music and creative practice, poetry and language, as well as the vital role of our local cultural institutions. 
The festival will officially launch on 28 April with an afternoon of online events. At 2pm the Steering Group behind the festival will present an exclusive preview of the programme. This will be followed by a keynote talk from journalist and broadcaster Clive Myrie, in discussion with Prof Ivor Gaber at 4pm. Clive will speak about why arts and humanities degrees are important and how his experience at Sussex helped to shape his career. The launch concludes at 5.30pm with a very special episode of the School's student-led podcast 'On the Record' featuring the University of Sussex Chancellor, Sanjeev Bhaskar.
As a continuation of the launch on Thursday 29 April, there will be two online events for students who are looking to pursue a career in media or related fields, designed by the Careers and Employability Centre.
Professor Mary Krell, Artistic Director of the Festival, said: "The Sussex Festival of Ideas is a celebration of our new School. We've put together a vibrant selection of the work collaboratively produced across the School by a wide range of students, staff and community partners including Charleston, Towner, Farley Farm, Photoworks and Audio Active.  
"This year's programme celebrates the extraordinary work of the School: from Algorithmic Autobiographies, to Punk Women and the Cultural Sector after Covid. We hope the festival excites and inspires in difficult times."
The festival has been co-created with students including Jessica Horne (PhD student, Business School) and Emma Green (Student Connecter, Media Arts and Humanities).
To find out more about the festival, please visit: https://sussexfestivalofideas.co.uk