News
Festival of Music and Ideas: Hildegard Westerkamp and Acoustic Ecologies
Posted on behalf of: School of Media, Film and Music
Last updated: Tuesday, 9 February 2021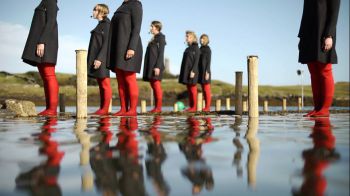 "Some biologists have made it their calling to use their special knowledge and education to look at the natural world from the ecological perspectives. Why then should composers and musicians not make it their calling to use their special knowledge and education to listen to the world from the ecological perspective?" -- Hildegard Westerkamp - 2002
Environmentally engaged artists and researchers from the University of Sussex and around the globe are featured in four days of discussions, concerts, films and installations centred on a celebration of the music and ideas of Hildegard Westerkamp, at the Attenborough Centre for the Creative Arts on the Sussex campus at the end of January.
Hildegard Westerkamp (1946-) is a soundmaker, teacher and thinker who is celebrated today as the mother of acoustic ecology - the study of the sonically mediated, reciprocal relationships between the environment and its inhabitants. Westerkamp's pioneering work at the intersections of composition, environmentalism, acoustic communication, radio arts, listening practices and soundwalking activate an awareness of sound as a decisive dimension of the world, an idea that underpins, and is transforming contemporary thinking across social, political, artistic and scientific practices of environmental respect and concern.
Dr Alice Eldridge, Artistic Director of the festival says "one aim of this annual festival of music and ideas is to explore the interactions between music and other ideas. This year, 'Acoustic Ecologies' highlights the importance of interdisciplinarity in addressing contemporary environmental issues. The science has been very clear for decades but we now realise that it not enough, it feels valuable to explore the role of other methods and practices in turning things around. Taking Hildegard's work as a starting point, the festival highlights the valuable interactions between artistic and scientific concepts and methods for engaging with the soundscape; we are asking how listening – in all it's forms – can develop environmental understanding, empathy, communication, action and justice".
Artists taking part in the festival include: Leah Barclay (AU), Angus Carlyle (UK), Anja Kanngieser (AU), Annie Mahtani (UK), Jez Riley French (UK), Steven Feld (US), Yolande Harris (US), Hanna Tuulikki (UK) & Voces del Bosque (EC) plus new works from Sussex Music students Dylan Beattie, Ryan Bridgewater, Catherine Ireton, Louis Berna Moya, Pete Myson and Max Worgan
6pm - 7.30pm Q&A: Hildegard Westerkamp and the Path of Acoustic Ecology
ACCA Café - Free, booking advised
An informal Q&A with Hildegard herself, on live link from Canada, in conversation with musician and ecoacoustian Dr Alice Eldridge and conservation biologist Dr Mika Peck to find out more about Hildegard's life, works and ideas and their resonance with contemporary research and practice across the art and science of soundscape.
7.30pm - 9.30pm Acoustic Ecologies Installations opening
Auditorium & Jane Attenborough Studio - Free
New audio and AV works from University of Sussex Music students that respond to Hildegard Westerkamp's music and ideas, alongside environmentally engaged international artists: Anja Kanngieser (AU), Jez Riley French (UK), Yolande Harris (US), Hanna Tuulikki (FI), Voces del Bosque (EC).
12pm – 7.30pm Acoustic Ecologies Installations
Auditorium & Jane Attenborough Studio - Free, drop in
6.30pm Film: Voices of the Rainforest
Auditorium - Free, booking advised
Rare screening of Stephen Feld's experiential rock-umentary about the ecological and aesthetic coevolution of Papua New Guinea's Bosavi rainforest region and its inhabitants.
4pm Group performance for Dew Pond #1 - Angus Carlyle
After a short introduction, participants will find their own time for heightened listening at the edge of the University campus, settling down together, each with a stick of chalk and blank piece of paper to document what they hear under the darkening sky, marking out a sonic sketch that could be a
soundmap
, a score, a diary of acoustic associations.
Accessibility: Involves a short walk outside off the beaten path, please wear suitable clothing.
Meet in ACCA Cafe. booking essential as limited places
5pm Hanna Tuulikki's Away with the Birds screening & Artist talk
Jane Attenborough Studio, Free, booking advised
Artist, composer and performer, Hanna Tuulikki will talk about her project Air falbh leis na h-eòin | Away with the Birds, a body of work exploring the mimesis of birds in Scottish Gaelic song.
Hannah's talk will be preceded by a film screening of a performance of Away With the Birds.
7pm Concert: An immersive surround sound concert featuring a rare UK sharing of landmark soundscape compositions by Hildegard Westerkamp (Kits Beach sound walk and Beneath the Forest Floor) new works by Sussex University Music students, BEAsT composer Annie Mahtani's Aeolian, and a UK premiere of by Leah Barclay's (AU) Migrations Patterns.
Tickets: Standard £5, Concessions £3, booking advised
12 noon - 10 pm Acoustic Ecologies Installations - continues
10.00 - 17.00 UK and Ireland Soundscape Community Network Meeting
(£20/£10) ACCA Café & Auditorium
An informal meeting for UK and Ireland Soundscape Community members new and old to meet each other and consider the role of acoustic ecology in contemporary society.

The Festival of Music and Ideas is an annual collaboration between the University of Sussex Music Department and the Attenborough Centre for Creative Arts. 2020 is curated by Dr. Alice Eldridge.
Further information: https://www.attenboroughcentre.com/events/3537/acoustic-ecologies-festival