News
University Orchestra turn back time for arts centre golden jubilee concert
Posted on behalf of: School of Media, Film and Music
Last updated: Tuesday, 9 February 2021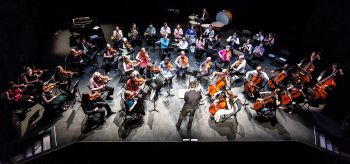 The University of Sussex Symphony Orchestra (USSO) will be turning back time as they recreate a programme of music from 50 years ago.
On 8 December 1969 the Orchestra presented a programme which included music by Stravinsky, Beethoven and Brahms as part of the opening season of the newly-opened Gardner Arts Centre. Now fifty years later, and in the refurbished and renamed Attenborough Centre for the Creative Arts, the Orchestra will again present the same programme, this time conducted by Professor Ed Hughes, Deputy Head of the School of Media, Film and Music.
Speaking at a rehearsal Professor Hughes said 'USSO has always been a highly sociable student-led society - bringing together students and staff from across the University, from Media, Film and Music to Business and the Medical School - but it has also always been very ambitious musically. This concert is no exception! The programme includes Stravinsky's Symphony in C - Stravinsky was a living 'contemporary' composer in 1969, Beethoven's Piano Concerto number 3, and Brahms' Academic Festival Overture.
He continued 'In addition to recreating USSO's inaugural concert in the Gardner Arts Centre we'll also be joined by some special guests from amongst the University's alumni. These include novelist Ian McEwan, who wrote the original concert programme notes as a student in 1969, Tony Banks, keyboardist in Genesis who recently donated a Steinway piano to the University which will be used in the concert, and composer Guy Richardson who played trombone in the 1969 concert, and was also in the first wave of BA Music students back then. The concert will feature another, more recent Sussex music graduate, and acclaimed pianist and composer, Shin Suzuma as soloist in Beethoven's moving piano concerto'.
USSO's concert takes place on Saturday 7 December at 7.30 pm at Attenborough Centre for the Creative Arts on the University of Sussex campus. Tickets priced £7 with Concessions at £5 are available from ACCA box office 01273 678822 or online at www.attenboroughcentre.com.
Professor Hughes concluded 'I enjoy conducting and helping with the orchestra because the music is great, and the students are so interesting, coming from many different backgrounds and subjects. This is a very exciting concert – don't miss it!'.