Events archive
Researching Palestinian Refugee History
Monday 30 November 17:00 until 18:30
https://universityofsussex.zoom.us/j/91026486999
Speaker: Dr Anne Irfan
Part of the series: MENACS webinar series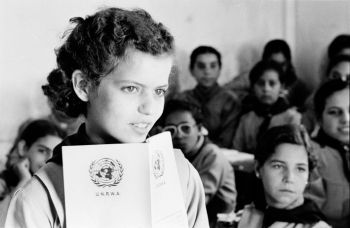 Dr Anne Irfan (Oxford) in conversation with Dr Jacob Norris (Sussex) on the challenges of carrying out historical research on Palestinian refugees.
https://universityofsussex.zoom.us/j/91026486999
Anne Irfan is Departmental Lecturer in Forced Migration at the Refugee Studies Centre at Oxford University. Her research interests include global refugee history, UNRWA and Palestinian refugees, forced migration in the Middle East, the spatiality of refugee camps, and archival suppression. She is currently Principal Investigator on the British Academy-funded research project Borders, global governance and the refugee, examining the historical origins of the global refugee regime. In recent years, she has spoken at the UK Parliament in Westminster, and the UN Headquarters in New York and Geneva about the functions of the UNRWA regime and the exclusions facing Palestinian refugees from Syria.
Jacob Norris is Senior Lecturer in Middle Eastern History and Co-Director of the Middle East and North Africa Centre at Sussex (MENACS). His research looks at the social and cultural history of Palestine in the 19th and 20th century with a particular focus on the flows of Palestinian migrants in this period, especially to Latin America.
---
By: Jacob Norris
Last updated: Thursday, 19 November 2020