People
Dr Charlotte Rae
Lecturer in Psychology
Charlotte studied for a BA Experimental Psychology and MSc Neuroscience at the University of Oxford, then a PhD at the University of Cambridge on the structural and functional networks of voluntary action. She moved to Brighton & Sussex Medical School for a postdoc with Hugo Critchley, on the links between interoception and action, with a particular focus on Tourette syndrome. In 2019 she took up a lectureship in Psychology at Sussex.
Charlotte welcomes enquiries from prospective PhD students interested in applying cognitive neuroscience approaches to answer questions around the interactions between interoception and action, and how these are affected by clinical conditions and lifestyle status.
See Charlotte Rae's staff profile
Joanna McLaren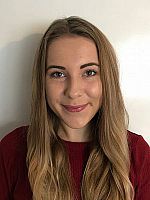 PhD student, School of Psychology
Joanna studied for a BSc Psychology at the University of Reading, including a research placement year at King's College London, during which she investigated student mental health and quality of life. Joanna's undergraduate dissertation project examined adaptive behavioural control in response to reward and punishment. Before coming to Sussex, she was a summer student at the Cognition and Brain Sciences Unit in Cambridge. In the ABC lab at Sussex, Joanna is using MRI brain scanning and psychophysiology to understand how lifestyle challenges such as sleep and work patterns affect interoception and impulsivity.
Christina Kampoureli
PhD student, Sussex Neuroscience and Brighton & Sussex Medical School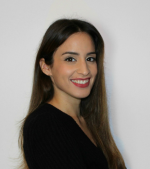 Christina studied for a BSc Psychology and MSc Clinical Neuropsychology and Cognitive Neuroscience at the National and Kapodistrian University of Athens, Greece, during which she also qualified in clinical neuropsychology. Coming to Sussex on the 4-year Sussex Neuroscience PhD program, Christina is applying her interests in clinical neuroscience to an innovative fMRI neurofeedback paradigm, investigating how attention can be modified using participants' own brain activity. She is also studying the associations between working long hours and neural function in the UK Biobank, a big open dataset of thousands of participants scanned with fMRI.