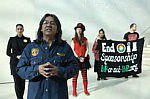 Mr
Gilberto Torres Martinez
Biography
Gilberto Torres is a Colombian former trade unionist who is currently collaborating with with academics at Sussex, the Universidad Libre in Colombia and NGO War on Want on the Sussex Social Science Impact Fund project, Righting Corporate Wrongs. The project brings academics and activists together to explore how corporations can be held to account for human rights abuses and assess the limits of existing legal frameworks and approaches to justice and remedy.
The Righting Corporate Wrong project emerged from conversations around Gilberto's own high court case against BP and six other related oil companies for his kidnap and torture in 2002 because of his activities as a leader of the Colombian oilworkers' union, USO.
You can read about Gilberto's case and the wider repression associated with BP's operations in Colombia in The Guardian and Le Monde Diplomatique.
Gilberto recently returned to Colombia in May 2016 after fifteen years in exile in Spain and the Dominican Republic. During his time in Spain, Gilberto was part of the coordinating committee of the Federation of Immigrant and Refugee Associations. He subsequently moved to the Dominican Republic, where he was acted an advisor to the Dominican Human Rights Committee and coordinated workshops on gender violence. Since his return to Colombia, Gilberto has remained involved in human rights litigation against oil companies. He has been heavily involved in the Colombian peace process as part of the human rights committee of the oilworkers' union, as a coordinator of the international commissions of the Popular Power and Unity political movement and an active participant numerous other initiatives, such as the National Civil Society Assembly for Peace.
One of the aims of the Righting Corporate Wrongs Project is to highlight the escalating repression of and criminalization of social protest in Colombia. Gilberto is considered to be at particularly high risk. Shortly after Gilberto's return to Colombia, paramilitaries attempted to kill his brother. Over recent months, Gilberto has been followed by armed men. The Sussex Rights and Justice Research Centre and the Centre for Conflict and Security Research are gravely concerned for Gilberto's safety. We have asked that the Colombian state's human rights protection programme provide Gilberto with adequate protective measures but we have yet to receive a satisfactory response.