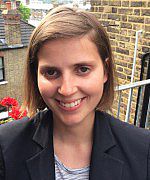 Dr
Rebecca Wright
Biography
Dr. Rebecca Wright is a Research Fellow in Mass Observation Studies based in the Sussex Humanities Lab and the School of Media, Film and Music.
Her research examines the cultural factors and social values that surround energy systems. This ranges from the meanings and emotions attached to energy and its related social practices, as well as the impact that changing models of expertise, political ideologies and cultural norms of consumption have on fixing energy demand in the home.
As a Research Fellow she is utilitising digital humanities methods to examine the social practices, emotions and attitudes attached to energy within the Mass Observation Archive.
Rebecca completed her PhD at Birkbeck College in 2016 exploring representations of energy in American thought. Between 2014-2016 she was a Research Fellow on the AHRC collaborative project 'Material Cultures of Energy: Transitions, Disruptions and Everyday Life in the Twentieth Century' at Birkbeck College. She has held short-term fellowships at the Library of Congress, The Huntington Library, Art Gallery and Botanic Gardens, and co-authored a history of the World Energy Council with Hiroki Shin and Frank Trentmann. She has taught at Birkbeck College on Twentieth-Century American history and cultural studies.