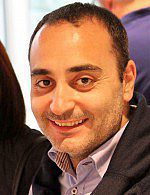 Mr
Wassim Naboulsi
Biography
I received my PhD degree in International Relations from the School of Global Studies (October 2022). My thesis examines urban-rural relations in Syria and the way in which they have shaped (and have themselves been shaped by) the 2011 Uprising and the ensuing conflict since.

I was elected in December 2022 for a three-year term as one of the directors of The British Society for Middle Eastern Studies (BRISMES).

I am an active Committee Member of the Middle East and North African Centre at Sussex (MENACS). I helped relaunch the Centre last year (May 2019) and have since been involved in co-organising events, film screenings and workshops as well as running the Centre's social media accounts. I have chaired talks and engaged with fellow academics and students at Sussex and elsewhere in the UK and abroad.


Prior to pursuing my postgraduate education in the UK, I obtained a BA in Law from the Lebanese University of Tripoli (1998) and established my own law firm in Lebanon in 2005 where I have been practicing law since then.

I have been an opinion writer in several Lebanese and Arab newspapers like Al Akhbar and "The New Arab"; my articles often address questions of Pan-Arabism and Islam.

In 2005, I founded the Arab Centre for Training and Development in Tripoli, Lebanon: An NGO that provided legal training for marginalised social groups.

1998: Law Degree - Lebanese University - Tripoli.

2001 - Present: Attorney at law - Tripoli Bar Association - Lebanon.

2015: MA Politics, University of Sheffield.

2016 - 2022: Ph.D student at the School of Global Studies (IR), University of Sussex.
2022: PhD in International Relations, School of Global Studies, University of Sussex.
Role
I have been working as a Doctoral Tutor at the International Relations and International Development departments in the School of Global Studies at Sussex University since 2019. I taught the modules: "The Politics of Foreign Policy", "The Rise of the Modern International Order", and "The Short Twentieth Century". I am currently teaching two modules: "Security and Insecurity in Global Politics" and "Key Thinkers in Development".