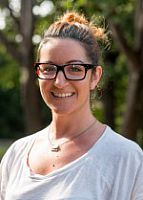 Dr
Cassandra Gould van Praag
Biography
Cassandra's background is in basic biological sciences, particularly human biochemistry, genetics, and immunology. She received a First Class honours from the University of Brighton in 2005. During her undergraduate training, Cassandra conducted a one year Industrial Placement with a pre-clinical Magnetic Resonance Imaging group at GlaxoSmithKline, where she was given the opportunity to explore the physics of Magnetic Resonance Imaging. From Biology, Cassandra transitioned to studies of the mind, as she began to learn about the placebo effect, where a basic biological action could be brought about by the simple belief that it would be so. She undertook an Open University Diploma in Health Psychology in 2007, followed by a Masters in Cognitive Neuropsychology at Birkbeck College in 2008. In 2014, Cassandra completed her PhD in Informatics at the University of Sussex. Here she explored the trait of synaesthesia, where sensory experiences in one modality trigger a concurrent experience of another form, using extensive exploration of the first person experience and Magnetic Resonance Imaging.
Role
Dr Cassandra Gould van Praag is a neuroscientist and researcher in Psychiatry at Brighton and Sussex Medical School, working with Professor Hugo Critchley. Cassandra is interested in the impact of physiology on emotional and cognitive processing - how our body effects what we think and feel.
Postdoctoral Research Fellow, Clinical Medicine, BSMS (http://www.bsms.ac.uk/research/our-researchers/cassandra-gould).
Secretary - The Association for the Scientific Study of Consciousness (ASSC) http://www.theassc.org/
Qualifications
PhD Informatics
MSc Cognitive Neuropsychology
BSc Biological Sciences