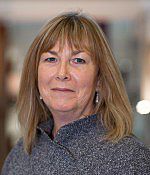 Mrs
Merrill Jones
Post:
Head of Professional Services, University of Sussex Business School (Planning, University of Sussex Business School)
Other posts:
Head of Professional Services (Business School (Professional Services))
Location:
JUBILEE BUILDING JUB-359
Email:
Merrill.Jones@sussex.ac.uk

Telephone numbers
Internal:
3648
UK:
01273 873648
International:
+44 1273 873648
download vCarddownload vCard to your mobile
Role
Head of Professional Service
I am responsible for delivering an effective and efficent adminstrative support to the Business School enabling it to achieve its objectives. I lead the Business School PS team and work closely with them in delivering administrative support, advice and guidance to our academic colleagues. We ensure this is aligned with and informed by agreed best practice, with a focus on driving continuous improvement. My objective is to deliver an exceptional professional services experience.
PS staff are encourged to liaise with and participate in both internal and external professional networks in order to understand best practice within the sector and staff are provided with training in order to be able to identify and implement process improvements and to deliver an excellent experience. The Business School PS are committed to delivering the highest quality student experience in partnership with colleagues in timetabling, facilities and student experience.
I work with the School Management team and act as the conduit/interface between the academic community and the University administrative divisions both internal and external to the School to articulate the objectives and needs. It is important for me to maintain strong partnership working with HR, Finance and IT as well as with Planning and Performance, Student Recruitment and External Relations to ensure there are appropriate targets set with supporting marketing and student recruitment plans.
I support the School Management team in developing and executing the University strategy including monitoring the KPI, maintaining the risk register as well as undertaking horizon scanning and resource planning.
I collaborate with colleagues in the Chartered Association of Business Schools. I am a member of the Professional Managers Committee of CABS with a key role in organising the Professional Managers Annual Conference. I am also the Advocate for the University of Sussex Branch of the Association of University Administrators.
I have an MBA in Leadership.