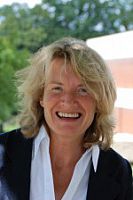 Prof
Karen Mccomb
Biography
BSc (1st Class Hons), Edinburgh 1984; PhD, Cambridge 1988.
Research Fellow, Newnham College Cambridge, 1990-1993; Research Associate, University of Minnesota, 1989.
First appointed lecturer at Sussex in 1993 and promoted to Professor of Animal Behaviour & Cognition in 2013. I am on the Editorial board of Bioacoustics and have acted as academic editor for PLoS ONE and Consulting Editor for Animal Behaviour. I am also a past Council Member for the Association for the Study of Animal Behaviour and currently part of the United Nations Environment Programme (UNEP) / Convention on the Conservation of Migratory Species of Wild Animals (CMS) specialist group on animal culture and social complexity.
I was awarded the PNAS Cozzarelli Prize 2008/2009 for outstanding originality and scientific excellence, along with my team when we produced the first experimental evidence for cross-modal individual recognition in non-human animals.
Role
I am Professor of Animal Behaviour and Cognition at Sussex, I convene the final year module in "Evolution of Communication: from animal signals to human speech" (taken by both Psychology and Life Sciences students), and I am Chair of the Postgraduate Exam Board. I am also the Sussex link for the Universities Federation of Animal Welfare (UFAW).
Community and Business
I have always been keen to make sure our key finidings about animal communication, cognition and emotion reach the attention of the general public. Our work on emotional awareness in horses recently had major coverage in a multiple prize-winning CBC documentary "Equus: Story of the Horse", which aired last year in North America and will soon be released world-wide. My elephant research was covered in BBC's "Inside the Animal Mind" in February 2014 and my previous horse research was filmed for the BBC series "Talk to the Animals", which aired in July 2014.
Other publicity includes being interviewed on the Radio 4 Today programme three times for different research stories, featuring multiple times on the BBC TV news, and being interviewed for ITV's News at Ten. This and numerous other interviews on radio and TV, and stories in major newspapers and magazines (as far reaching as The Economist) has given our findings major publicity world-wide.