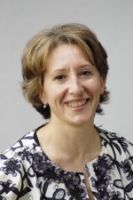 Dr
Piera Morlacchi
Biography
I study the multiple interactions of work, technology, organization, and policy to solve societal challenges, mostly in health contexts.

Current position and affiliations. I am a Senior Lecturer in Entrepreneurship and Organization Studies. I joined the University of Sussex in May 2003 and now based in the School of Business Management and Economics (BMEc) where I have joint affiliation to the department of Business and Management (B&M) and the Science and Technology Policy Research Unit (SPRU). I am also a member of the Centre for Global Health Policy.
Background and previous academic positions. My initial training was in engineering science. I hold Bachelor and Master degrees from Politecnico di Milano in Management and Industrial Engineering, with a specialization in complex systems modelling and artificial intelligence (dissertation title "Design of neural networks for modelling and managing of production systems").
After working as a research assistant during my master studies at graduation I was hired at the same institution as a research fellow and lecturer, with a joint affiliation to the Department of Management, Economics and Industrial Engineering (DIG) and the School of Management (MIP), where I stayed for three years.
In 1998 I moved to the UK to do my PhD in the School of Management at the University of Bath (UK), completing a thesis in 2003 on innovation in the medical device field (title "How new technologies become legitimated: the co-evolution of technologies and networks in the cardiac implantable device field") and working as a research fellow on a number of projects.

Other visiting positions. In addition to my full time positions now at Sussex and before in Milano and Bath, I have held a number of fellowships and visiting professorships at other institutions in Europe and in the US:
-2006: Summer Fellow, Centre for Advanced Study in the Behavioral Sciences (CASBS), Stanford University, California; Visiting Scholar at the Santa Fe Institute, New Mexico, USA.

-2007-2008: Senior Research Fellow, International Center for Health Outcomes and Innovation Research (InCHOIR) and Adjunct Associate Research Scientist, Department of Surgery, Columbia University, New York, USA.
-2011: Visiting Professor, Department of Enviromental Economics, University of Southern Denmark, Denmark.
-2012-2013: Visiting Professor, Department of Economics and Management, Universita' degli Studi di Trento, Italy.
-2014-2015: Visiting Professor, Department of Information Engineering and Computer Science, Universita' degli Studi di Trento, Italy.
Role
Senior Lecturer / Associate Professor in Entrepreneurship and Organization Studies.
B&M Assessment and Exam Board Convenor.
Community and Business
- Advisor and mentor to med-tech and digital health startups and ventures.
- Advisor to Trentino Sviluppo, local development agency for the Trentino region (Italy), evaluating their early stage financing programme of innovative startups (2014-2015). Previously external evaluator of specialised incubator proposals, Bando Seed Money, Trentino Sviluppo (2013).
- Advisory board member and mentor of Enactus (an international student society about Entrepreneurial Action in Society) at the University of Sussex (www.enactusuk.org) (2010-2014).
- Scientific advisor to the 'Culture and Innovation Dynamics (CID): Explaining the Uneven Evolution of Human Knowledge' project. European Commission (FP6). NEST Programme on New and Emerging Science and Technology (2007 - 2009).
- Co-chair and co-organiser of the SPRU 40th Anniversary Conference 'The Future of the Science Technology and Innovation Agenda: Linking Research and Practice', University of Sussex, September 2006.
- Scientific advisor to the taskforce on 'Socio-economic Value of Medical Research'. European Science Foundation / European Medical Research Council (ESF / EMRC) (2004 - 2005).