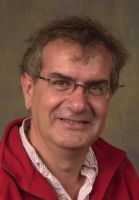 Prof
Richard Black
Biography
Biography

From September 2013, Richard is Pro-Director (Research & Enterprise) at SOAS, University of London. He is also a Visiting Professor in Geography at Sussex.
Until 2013, Richard was Head of the School of Global Studies, a new School of study established at Sussex in 2009. He has held the post of Professor of Human Geography since 2003, and became CEO of the 'Migrating out of Poverty' research consortium, a major international partnership funded by DFID and involving universities in South Africa, Kenya, Ghana, Bangladesh and Singapore, in early 2012. This consortium grew out of the earlier 'Development Research Centre on Migration, Globalisation and Poverty', also funded by DFID, of which Richard was Director from 2003-09.
Based at Sussex from 1995, Richard spent the Autumn term of 2011 as Visiting Fellow at the University of Neuchatel, funded by an International Short Visit Fellowship from the Swiss National Science Foundation. From January to March 2007, he was Visiting Researcher at the Institut Nationale des Etudes Demographiques in Paris.
In 2012, Richard was elected Academician of the Academy of Social Sciences, whilst in 2008, he won the Royal Geographical Society's 'Back Award' for contributions to public policy.
Richard completed his undergraduate degree in Geography in 1986 (Oxon) and his PhD in 1990 (London). From 1989-1995 he was Lecturer at King's College London.
Role
Professor Richard Black is Visiting Professor of Geography at Sussex, and Pro-Director (Research & Enterprise) at SOAS, University of London
Community and Business
From 2009-11, Richard served as Chair of the Lead Expert Group for a Foresight project on 'Migration and Global Environmental Change', within the Government Office for Science. His external roles include membership of the steering committee of the Nansen Initiative on Cross-Border Dispalcement, and active engagement with a number of international organisations. In 2009, he was on the advisory board of the civil society days for the Global Forum on Migration and Development, whilst in 2003, he was special advisor to the House of Commons International Development Select Committee inquiry into migration and development.
Richard has also worked as a consultant for a number of organisations, including the United Nations Development Programme, the United Nations High Commissioner for Refugees and the European Training Foundation.