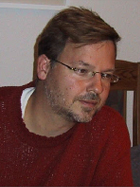 Prof
Justin Rosenberg
Biography
I completed my undergraduate degree in English Literature (Cantab) in 1983, before taking a Masters and a PhD in Sociology. In 1991 I became a lecturer in International Relations at LSE, before moving to Sussex in 1998.
Role
Professor of International Relations
Justin was Head of the International Relations Department from 2011 to 2014. He was also Co-Convenor of the BISA Working Group on Historical Sociology and International Relationsfrom 2003 to 2014 (www.historical-sociology.org), and he remains co-Convenor of the Sussex Working Group on Uneven and Combined Development (www.unevenandcombined.com).