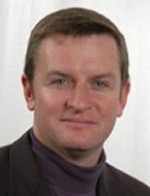 Prof
Chris Marsden
Biography
Professor Christopher T. Marsden is Professor of Internet Law at the University of Sussex since 2013, and Founder-Director of the Centre for Information Governance Research @SussCIGR. He was formerly Professor of Law at Essex, having previously taught and researched at Warwick, Oxford, LSE. He has both LL.B (1989) and LL.M (1994) in Law from LSE, Ph.D. from Essex. He has held Visiting Fellowships at UNSW Sydney, Harvard, Melbourne, Cambridge, Oxford, USC-Annenberg, Keio, GLOCOM Tokyo, and FGV Rio de Janeiro.
He is willing to supervise PhD students in telecommunications and Internet law relevant to his research. Please ensure you have read his research before contacting him with research proposals.
He is author of five monographs on Internet law:
He is also author-editor of the interdisciplinary Internet policy books "Regulating the Global Information Society" (Routledge 2000), and "Convergence in European Digital TV Regulation" (Blackstone/OUP 1999). He is author of many refereed articles, book chapters, professional articles, papers in selected proceedings, keynote addresses, and other scholarly contributions.
His board roles include: Director, Information Law Group, Sussex since 2014; Editorial Advsory Board Member of the Society for Computers and Law since 2012, and Associate Editor of the interdisciplinary communications management journal 'info' 2007-16. He is on the boards of several scientific conference committees including IDP, at which he presented the 2011 keynote.
He has presented refereed scientific conference papers numerous times, including TPRC, International Telecommunications Society, International Institute of Communications, BILETA and European Communications Policy Research conferences. He is a longstanding member of the Society of Legal Scholars and keynoted the Internet Law section at their 2013 Edinburgh annual meeting. He also keynote lectured at BILETA 2008. He has presented work in progress at many editions of the techno-law Gikii conference.
Role
Professor of Internet Law
Community and Business
Professor Marsden has been funded to carry out multi-year research projects by:
Commonwealth Secretariat (2019-20) on election cybersecurity and disinformation;
European Parliament (2018-19) on disinformation, Artificial Intelligence and platform regulation,
Organisation for Economic Cooperation and Development OECD (2016-17) on telecoms/media law reform,
European Commission DG JUSTICE (2014-16) on open access to law,
Prime Minister's Office, Republic of Korea (2013-14) on network neutrality, privacy and cybercrime,
European Commission FP7 (2011-15) on Internet Science, notably regulatory and standards aspects,
European Commission DG CONNECT (2003-4, 2007-8) on self- and co-regulation,
British Academy (2005-7) on copyright reform and Creative Commons licensing in UK and Japan,
Economic and Social Research Council (1998-2000) on convergence of media and telecoms,
and has served as Advisory Board member on ESRC, EC, EPSRC, FP7 & Horizon2020 projects.
As Senior Analyst at RAND Europe (2005-7), he worked for many governments and private clients on Internet policy issues in Europe.
He has 25 years' experience in Information Society analysis, research and consulting in academic, thinktank (World Economics Forum, RAND Europe, RE: Think!), government (Independent Television Commission) and commercial (Media Week, MCI WorldCom UK, Shortmedia) organisations. He has consulted for the governments of South Korea, Netherlands, UK, Ireland, Thailand, Japan, the European Commission, European Parliament, Council of Europe, OECD, Commonwealth. He has worked on four continents in these roles.
Pro bono roles include serving on the Advisory Board of the Society for Computers and Law, the United Kingdom professional society for IT lawyers. He has served as Chair of their annual research conference at Herbert Smith in 2008 and 2012, was their Student Ambassador for Sussex (linking the students to the legal profession), and was on the Organising Committee for IFCLA 2016 (the biennial for the international federation of IT lawyers) having keynoted IFCLA 2014. He also served on the Nominet Stakeholder Committee, advising the .UK domain name registry, 2017-19.
He is a regular international speaker on Internet law and policy issues, and has been cited in The Economist, El Pais, Wall St Journal and many domestic newspapers and journals, as well as GigaOm, ZDNet, Computer Weekly and other online journals e.g. United Nations Internet Governance Forum 2015 (at 18:20)
He has given invited keynote speeches for the following international conferences: SCL Annual Policy Forum (SCL 2006-13), SCL annual conference (2014, 2016, 2019), British and Irish Law Technology and Education Association (BILETA 2008), International Conference on Internet, Law & Politics (IDP Barcelona 2011-13). He was a participant in the Wharton Colloquium on Media and Communications Law (CMCL 2006-2010) and ever-present at the Harvard-Ruschlikon conference on information policy (2001-7). He chaired the ESRC European Media Regulation Group 1998-2000. He chaired the European Presidency High-Level Conference on broadband policy in 2010, and was the only academic expert invited to address the European Parliament-Commission conference on the open Internet and net neutrality in 2010 and 2013.