How to use hygienic bees to help control brood diseases
Workshop date: Friday 23rd of June 2017
As beekeepers know, honey bees have many diseases. The simplest way of controlling honey bee diseases would be if the bees themselves did it. Hygienic behaviour is a natural form of disease resistance in which worker bees remove dead and dying brood from capped cells. Hygienic behaviour is effective against chalk brood, American foulbrood, Varroa, and Deformed Wing Virus.
This workshop is targeted at beekeepers who want to learn more about hygienic behaviour, whether to breed their own hygienic bees or simply to buy hygienic queens to use to requeen their own colonies. The workshop will give background information on hygienic behaviour and how effective it is at controlling Varroa, at controlling Deformed Wing Virus, and at reducing colony mortality. It will also provide practical information on how to breed your own hygienic bees.
The workshop will take place at LASI and will combine lectures with hands on activities, and will be based on the results of LASI research carried out in the Sussex Plan for Honey Bee Health & Well Being. Teachers include Professor Francis Ratnieks, Mr Luciano Scandian, Dr. Karin Alton, Mr Norman Carreck and other LASI researchers.
Other information
Date
The workshop will be taught: 1300-1700 Friday 23rd June 2017 of June 2017. Aim to arrive between 13.00-13.15 to allow for parking and refreshments prior to the first lecture at 13.30.
Venue
The Laboratory of Apiculture & Social Insects, University of Sussex, Falmer, Brighton, BN1 9QG
Cost
A donation of £20 is requested towards the research we carry out at LASI, and is payable at the time of booking. Spaces are limited to 25 people and will be allocated on a first come basis.
Equipment
A notebook and pen is optional.
Travel
Sussex University is easily reached by road and rail. Falmer station is 10 minutes walk. Parking is available in visitor car parks for a small fee (free on Saturday). Please park in car park P1 or P4.
Maps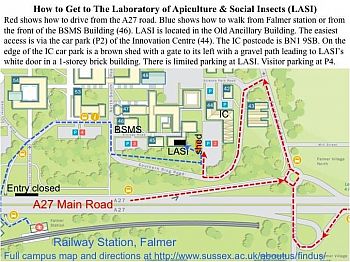 How to find LASI
Please book your space on this workshop here:
FEEDBACK FROM PREVIOUS WORKSHOPS:
Ellen Montelius: 'Thank you for the very informative workshop. Thoroughly enjoyed it.'
Chris Went: 'It was brilliant, thanks a lot everyone'
Paul Jenkins: 'Karin and LASI team it was a very good afternoon, very interesting and very well presented. Especially good to have Hasan show us how to graft. You are doing some terrific work and I hope as many people as possible can benefit from it..... And my LASI queen is laying like a good 'un! Thank you very much.'
Julie Parker: 'Thank you for the workshop - really really interesting - I learnt an enormous amount and will be breeding daughter queens next spring if they overwinter well.'
Save
Save
Save
Save
Save
Save