The University arranges a number of executive visits annually to strengthen links with existing partners and build new strategic collaborations.
Executive visits are led by a member of the Unversity Executive Group, who is normally joined by a small delegation of faculty and professional services staff.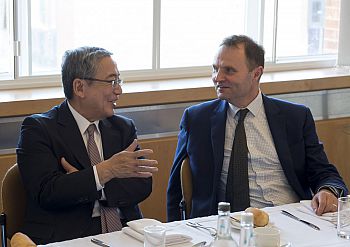 The primary focus of the University's executive visits is to fortify institutional partnerships, building relationships and identifying and progressing opportunities for collaboration.
Visits also keep staff informed of regional higher education policy developments, and raise the profile of the University in the region, highlighting strengths in teaching and research. They often incorporate meetings with overseas representatives or regional office staff and events to engage with our international alumni and community.
Some of the recent visits have included:
March 2018: South East Asia
May 2017: USA
May 2017: Ghana
March 2017: China and Hong Kong
July 2016: China and Thailand
May 2016: USA
May 2016: South Africa and Ghana
November 2015: Japan
Input into executive missions by faculty with academic links to the region is valued, and further information is available from Sephora Imomoh, International Partnerships Manager (s.m.imomoh@sussex.ac.uk).