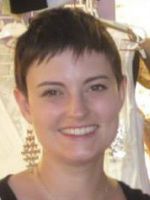 Ms
Rachel Wood
Biography
I recently submitted my PhD in Gender Studies at the University of Sussex, based in the department of Media Film and Music. I am co-supervised by Sally Munt and Janice Winship and my thesis is titled 'Consumer sexualities: women and sex shopping'. My PhD research is a qualitative study of women's experiences of UK sex shops and the products they sell. After completing my BA in English Literature at the University of Warwick, I took a Masters in Gender and Culture at Birkbeck College before coming to Sussex for my PhD.
I am a part time teaching fellow at Sussex, specialising in supporting international students at BA and MA level. I have taught a wide range of seminars and lectures across media and cultural studies.
I am currently co-editing and contributing to a double special issue of the journal Porn Studies on porn audiences and consumers, to be published in 2015. http://www.tandfonline.com/loi/rprn20.
I am a member of Sussex Centre for Cultural Studies and one of the organising team of the SCCS and CDMC international conference Staging Illusion: Digital and Cultural Fantasy which was held on 8th-9th December 2011. I was part of a team that organised the SCCS postgraduate TRASH conference and art and film event in September 2012 http://sussextrashconference.wordpress.com/.
I am a panel member for NGender, now in its fifth year. NGender has been responsible for an annual seminar series, a series of funded special events including screenings and discussions, a feminist book group and a funded gender and sexuality studies conference at Sussex in 2014 http://ngender.wordpress.com/.
In 2012-13 I was a SAGE Research Hive Scholar, involved in organising events and ensuring the success of the Hive, a collaborative space for researchers in Sussex Library sponsored by SAGE publishers.
Publications in print:
(2014) "'You do act differently when you're in it': Lingerie and Femininity.", Journal of Gender Studies
(2013) '"Walking and Watching" in Queer London: Sarah Waters' Tipping the Velvet and The Night Watch', Lesbian Studies, 17(3/4)
Publications forthcoming:
Authored with Co-Editors William Leap and Sharif Mowlabocus (forthcoming, 2015), Introduction to the Porn Studies double special issue on porn audiences and consumers.
(in review, 2015) 'Sex Toys and Smut: Sexual consumer repertoires of women who read and write erotic fiction', Porn Studies
(forthcoming, 2015) 'Look good, feel good: sexiness and sexual pleasure in neoliberalism', in Ana Sofia Elias, Rosalind Gill and Christina Scharff (eds) Aesthetic Labour: Rethinking beauty politics in neoliberalism, commissioned by Palgrave Macmillan
Conference papers:
'Intimacy with sexual objects: women and sex toys' Researching Sex and Intimacy: An Interdisciplinary Symposium, University of Sussex, July 2014
'"My battery operated boyfriend": Sex toys and the body' - Media Film and Music Doctoral Day, University of Sussex, June 2013
'"You sit differently, you do act differently when you're in it": Women's Experiences of Buying and Wearing Lingerie' - Body Projects: Body Modification and the Female Body conference, University of York, March 2013
'Sexualities for Sale: Female Desire in Sex Shop Space' - Self, Selves and Sexualities conference, Dublin, March 2012
'Bodies Out of Place: Passing in/through Airport Space' - European Geographies of Sexualities conference, Brussels, September 2011
'Intelligible Sexualities In and Out of the Closet' - NGender postgraduate seminar series, University of Sussex, Spring 2011
Role
PhD candidate in Gender Studies

Tutorial Fellow in International Student Support in the school of Media Film and Music
Department of Media Film and Music
Silverstone Building
University of Sussex
Falmer East Sussex BN1 9RG
01273877722
Community and Business
I organised the TRASH art and film event which took place at The Basement, Brighton on the 13th September 2012. The event was open to the public and provided a forum for discussion around the theme of trash outside of the academy, supplementing the postgraduate conference that took place the following day.
The NGender seminar series continues to be publicised and attended by non academic members of feminist communities in Brighton. In 2013 we held a documentary film screening and panel on breast cancer at Komedia Brighton in collaboration with International Women's Day, and started a feminist book group.
Two articles about my research have been published and are accesible to the public. Write Sex Right, a blog for sex writers and bloggers, invited me to write a guest blog post. An column about my research was also published in the January 2013 issue of GScence, a free magazine aimed at Brighton's LGBT communities.