With an Engineering or Design degree at Sussex you'll be ready to hit the ground running with knowledge and experience of both industry standard software and equipment used by employers, as you begin your career.

You will be working with state of the art design and engineering software in dedicated computer labs and with industry standard manufacturing, prototyping and testing equipment to bring your projects to life - all under the guidance of experienced lecturers and technicians.
Our undergraduate laboratory and project facilities in the department include:
Formula Student Workshop
Product Design prototyping and modelling zone - with facilities to work in plastic, metal, wood and clay,
Paint-spray and welding booth
Robotics project lab
Year 3 and MEng project labs
Social space with wireless computer network access.
Rapid Prototyping facilities consisting of Z ­Corp 3D printer, 3D CNC machines, vacuum former, and vinyl cutter, allowing students to produce innovative, full size and fully functional product concepts.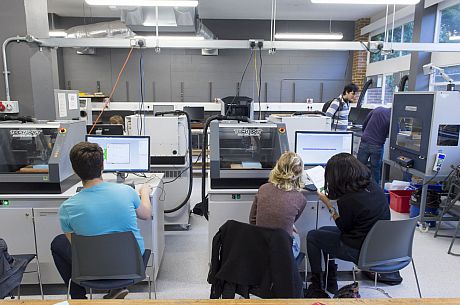 Buggy Lab

The buggy is a test bed for a completely "drive by wire" motor vehicle. It is used to research vetronics (vehicle electronics). The car is driven as a normal vehicle but none of the control systems (steering, brakes, or throttle) are controlled manually, they are all electronic. Sensors detect the position of the controls and electronic actuators control the actual mechanical systems. Research is carried out on the safety system networks and its control electronics. Both postgraduate and undergraduate researchers use the buggy.

The Schools buggy 'collection'

CAD Lab

Computer-aided-design, or CAD, is the process of communicating an idea from an abstract representation, a hand drawing, or a sketch into something that can be clearly understood or even manufactured by others. This is where undergraduate students get hands-on experience of using state-of-the-art CAD tools.

These tools are linked to a rapid prototyping or manufacturing capability.

Computers are equipped with 3D and 2D software packages such as Pro-Engineer, Solidworks, Engineering Desktop and AutoCad.

Design Studio

The Design Studio is a creative space for Product Design students. The studio is used for design-based lectures and seminars and is a place for students to work individually or in groups on their projects. PCs are available for use as well as a 'messy area' for hands-on, initial, prototyping of design concepts. The 'Haptic Arm' is connected to one of the PCs – this is a form of 3D CAD virtual prototyping using a hand driven sculpting pen that feeds back resistance and pressure as if one were actually sculpting a material in reality.

Product Design Studio

The main hub of activity for Product Design students, a studio specifically created for use by our design students.

Electrical Machines Lab

The electrical machines lab is a state-of-the-art facility to allow students to understand basic dc and ac electrical machine behaviour. This is made possible using purpose-built rigs that fully emulate real machine behaviour with full virtual instrumentation of the essential electrical and mechanical properties.

Electrical Machines Laboratory

The electrical machines laboratory has six test stations enabling testing of several different types of electric motor, some with electronic control. The motors are similar to those that are widely used in industry. Computers are used for controlling the mechanical load applied to the motor, and for monitoring and recording electrical and mechanical quantities. First-year students gain an understanding of the basic properties of two common types of motor; second-year students explore motor behaviour in greater depth.

Electronics Lab

The electronics laboratories are used for undergraduate teaching in all years. The first year lab is equipped for teaching the basics of electronics. Third year laboratories are widely used for project work. Past examples of projects include: helicopter control electronics, hi-fi amplifiers, and bio-medical sensors.

Engine Lab

This lab has all the facilities required to test IC engines under realistic load conditions.

There are a number of test beds with state of the art research developments underway. There is also a large diesel engine test cell plus a smaller test cell for gasoline engines.

Much of the research is focussed on making engines more efficient and reducing their harmful emissions. This involves collaborations with well-known vehicle manufacturers.

Students investigate the combustion engine

Computer Labs

Extensive computing facilities are available, including suites of computers with high-level computational and design software and a variety of other microcomputer systems. The University's main computing system, linking to virtually any computer in the country, is accessible from terminals located within research students' offices.

Science and Engineering Mechanical Workshop

The Science and Engineering Mechanical Workshop offers manufacturing, R&D, and technical support. You can visit the Science and Engineering Workshop website for more information on projects we have worked on (such as innovative solar panels).

Workshop Rate Card:

| | | |
| --- | --- | --- |
| Rate A | Engineering & Physics | £26 per hour |
| Rate B | Other University of Sussex Departments | £62.50 per hour |
| Rate C | External Users | £84 per hour + VAT |

If you have a work request fill out this Workshop Requisition Form [XLSX 14.41KB]. For more information, email sci-eng.workshop@sussex.ac.uk.The Workshop is located at the back of Pevensey 1 on North-South Road.