MAKING CONNECTIONS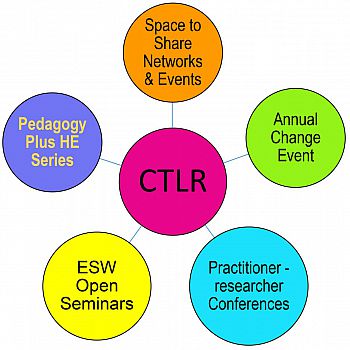 The Centre for Teaching and Learning Research (CTLR) is engaged with education in all its pedagogical and social complexity. The interests of members span local, national and international contexts and a range of formal and informal settings, running from Early Years to Higher Education and including Initial Teacher Education. Consistent with this, we aim to foster the development of more holistic, contextualised and systemic understandings of education in all its many forms.
The Centre's strapline is Making Connections, reflecting its focus on bringing research, theory, policy and practice together with a view to promoting positive change. Each year we host an Annual Change Event that brings researchers, students and stakeholders together to promote understanding of how more equitable and inclusive approaches to teaching and learning might be achieved. We are also actively engaged in the development of locally-based practitioner researchers, hosting two conferences a year linked to our Masters in Education and Masters in Early Years programmes. CTLR is also strongly committed to supporting the development of doctoral researchers, including through its support for the ESW Doctoral Research in Progress seminar series.
Don't miss ...
DOCTORAL SPACE TO SHARE
Date: Thursday 26 May
Time: 2-3pm
Venue: The Conolly Room, Essex House or via Zoom [https://universityofsussex.zoom.us/j/95094283193]
Open to all ESW doctoral researchers affiliated to CTLR. Doctoral supervisors also very welcome.
These events will have an open agenda for the general sharing of research.
_______________________________________________
CTLR WORKSHOP
Title: Researching and Developing Gender-Sensitivity in Higher Education Curriculum and Pedagogy
Speakers: Dr Tamsin Hinton-Smith and Dr Fawzia Haeri Mazanderani
Date: Friday 27 May
Time: 1-2pm
Venue/Zoom link: Room G36, Jubilee /
https://universityofsussex.zoom.us/j/99665307400?pwd=L0VVTDZ4Qjd3ZElJTnBlbEg4STR6QT09
(Meeting ID: 996 6530 7400 / Passcode: 119498)
This practical workshop is aimed at higher education teachers across all disciplines including those who have a responsibility or interest around curriculum and/or equalities. The workshop draws on insights from international, interdisciplinary research with staff and students carried out at universities in India, Kazakhstan, Morocco, Nigeria and the UK. Participants will be introduced to the research process, insights, and tools that can be used for understanding and developing gender inclusion and exclusion, and wider equalities, in your own course or departmental teaching.
_______________________________________________
CTLR / PGCERTHE PEDAGOGY PLUS PRESENTATION
Title: Critical-creative teaching in higher education: what, why and how?
Presenter: Dr Anke Schwittay, Senior Lecturer in Anthropology & International Development, University of Sussex
Date: Tuesday 31 May
Time: 1-2.30pm
Venue and/or link tba
Dr Schwittay will introduce the fundamentals of critical-creative teaching. This pedagogical approach combines whole-person learning, the use of design and arts methods and praxis-based learning-by-doing to foster students' critical hope. The workshop will explore various teaching activities from Dr Schwittay's own pedagogical practice in International Development and how they can be adapted in participants' classrooms. This workshop is based on research published in the book Creative Universities: Reimagining Education for Global Challenges and Alternative Futures (Bristol University Press, 2021).
_______________________________________________
CTLR News
EVALUATION OF ALTERNATIVE PROVISION INNOVATION FUND
Since 2018 CTLR Director Louise Gazeley has been working in partnership with national research consultancy ECORYS on a Departnment For Education-funded evaluation of the alternative provision innovation fund (APIF).
Nine projects were selected for inclusion in the programme which was designed to provide insights into three major areas:
Reintegration into mainstream school
Transitions to post 16 destinations
Engagement of parents/carers
A research report and three practice papers covering the main findings from the evaluation have now been published.
****************************************************************
Check out our Annual Report ...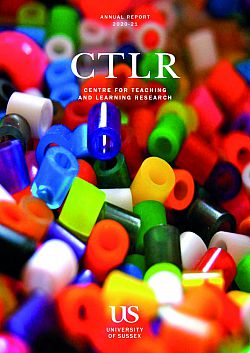 Find out what CTLR members have been doing over the last 12 months in the CTLR Annual Report: 2021 [PDF 3.84MB]