MAKING CONNECTIONS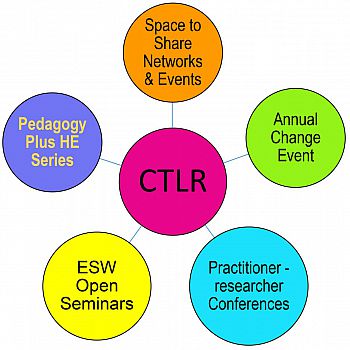 The Centre for Teaching and Learning Research (CTLR) is engaged with education in all its pedagogical and social complexity. The interests of members span local, national and international contexts and a range of formal and informal settings, running from Early Years to Higher Education and including Initial Teacher Education. Consistent with this, we aim to foster the development of more holistic, contextualised and systemic understandings of education in all its many forms.
The Centre's strapline is Making Connections, reflecting its focus on bringing research, theory, policy and practice together with a view to promoting positive change. Each year we host an Annual Change Event that brings researchers, students and stakeholders together to promote understanding of how more equitable and inclusive approaches to teaching and learning might be achieved. We are also actively engaged in the development of locally-based practitioner researchers, hosting two conferences a year linked to our Masters in Education and Masters in Early Years programmes. CTLR is also strongly committed to supporting the development of doctoral researchers, including through its support for the ESW Doctoral Research in Progress seminar series.
Don't miss ...
A CTLR OPEN RESEARCH SEMINAR
Date: Monday 6 March, 2023
Time: 3.30-4.30pm
Vunue: The Conolly Room, Essex House
Title: Vulnerability Over The Time Sequence: The dynamic meaning attributed to precarious employment by working-class young Palestinian women in Israel
Dr Sinyal Athamneh (Visiting Research Fellow) will present findings from a qualitative longitudinal research study conducted among working-class young Palestinian women citizens of Israel, interviewed as high school students working in precarious employment and again five years later.
Sinyal's talk considers the meanings attributed to precarious employment from an intersectional perspective that identifies this as a reflection of universal vulnerability that continues over time and is anchored in economic and political-cultural structures. Sinyal will also consider how these factors are navigated as part of the young women's decision-making process in the emerging adulthood period.
*NO NEED TO BOOK IN ADVANCE