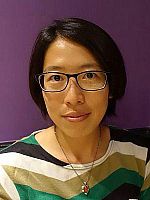 Miss
Pin-Hsien Wu
Biography
Pin-Hsien Wu is a Dr in Development Studies with a specialisation in environmental practice and discourse in diverse cultural and socio-political contexts. She successfully defended her dissertation, Environmentalism in China and India: A Comparative Analysis of People and Politics in Two Coal Capitals, in July 2015 at the University of Sussex. She received her master's degree in Cultural Studies (from National Chiao Tung University) and bachelor's degree in Sociology (from National Taiwan University).
Before pursuing her PhD, she had worked for three years with Taiwanese and Indian NGOs, mainly those focusing on environmental justice, environmental education and information disclosure. The work experience leads her to question the different definitions and practices of 'environmental rights' in diverse cultural contexts, and forms the basis of her PhD research on comparing environmental campaigns in China and India.
Research and Teaching Interests
Environment and development studies; NGOs, civil society and social movements; industrial pollution and risk; the politics of participation; cross-cultural Asian studies; gender across cultures; qualitative and quantitative methods in social research.
Recent Publications
Wu, P. H. 2016. Investigating Nature within Different Discursive and Ideological Contexts: Case studies of Chinese and Indian Coal Capitals, BJHS – Themes. (Forthcoming)
Wu, P. H. 2015. Who Speaks for the Environment? A China-India Comparative Analysis. Paper presented at the Asia-Pacific Science, Technology and Society Network Biennial Conference 2015, Kaohsiung, Taiwan.
Wu, P. H. 2015. Reconsidering the Notion of 'Authoritarian Environmentalism': China-India in Comparative Perspective. Paper presented at the Asia & Environment Workshop by Centre for World Environmental History & Sussex Asia Centre, University of Sussex, Brighton, UK.
Qualifications
Education History
2015. Doctor of Philosophy in Development Studies, Univeristy of Sussex.
2011. Postgraduate Diploma in Comparative and Cross-Cultural Research Methods, University of Sussex.
2005. Master's Degree in Social Research and Cultural Studies, National Chiao Tung University.
2011. Bachelor's Degree in Sociology, National Taiwan University.
Other Qualifications
2015. Associate Fellow of the Higher Education Academy, by the Higher Education Academy Board, UK.
2008. Certificate of Proficiency in Teaching Chinese as a Second/Foreign Language, by the Ministry of Education, Taiwan.