All events are supported by our professional Conferences & Events team whose purpose is to make your stay here as enjoyable as possible. For those resident on campus during their conference, there is always someone on hand to welcome them and take urgent messages at our 24-hour reception desk.
Conference Centre
Available all year round the University of Sussex Conference Centre boasts a modern suite of eight stylish conference rooms ranging in capacity from 10 to 250 delegates.
The contemporary design of the Centre incorporates integral user-friendly technology, including integrated controls for audio visual equipment, lighting and blinds as well as air conditioning and induction hearing loops.
General Teaching Space
During the summer vacation, a wide range of general teaching space is available including fifteen lecture theatres, over one hundred seminar rooms, computer rooms and a choice of exhibition space.
A full range of audio-visual equipment is available. For extra peace of mind, a technician can be booked to be on-hand throughout your event.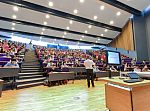 Other Venues
The Meeting House Quiet Room is an oasis of space and peace for day-time study and resting for those who want to get away from it all or work in a peaceful environment with supplies of tea, coffee and hot chocolate at hand.
The Meeting House can be booked for your event, subject to availability. Quotes for this unusual venue are available on request.
Function Catering
Our catering department aim to provide something for every occasion, from bacon sandwiches for breakfast to 3-course cafeteria dinners. You may only require a coffee during your meeting or you may decide to dine with us throughout the day, whatever your choice, we're sure you'll agree we cater for every need.
We offer formal dinners and banquets, as well as private dining, drinks receptions and more. For further details, refer to the catering pages.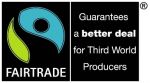 All tea & coffee served is 'fair-trade' and wherever possible we offer organic, vegetarian, vegan choices and will adapt meals for those with dietary restrictions (by prior arrangement).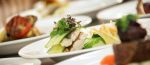 Find Us