News
Sussex research on display at the Brighton Summit
By: Suzanne Fisher-Murray
Last updated: Monday, 14 October 2019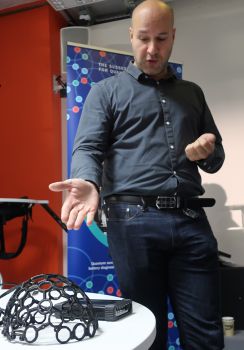 University of Sussex quantum and sensory technology and innovation was on display at the Brighton Summit on 14 October, which brought together 400 businesses and entrepreneurs from Brighton and Hove.
Five researchers showcased their quantum and sensory technology to Brighton Summit conference attendees at FuseBox Brighton. Dr Elizabeth Rendon-Morales, Senior Lecturer in Electrical and Electronic Engineering from the University of Sussex, displayed her smart baby sensor mat which monitors the heart rate, respiration and temperature of new born babies placed on it. She is working with the Alexandra Children's Hospital intensive care unit to develop the technology further. "Together we can create technology that can change people's lives," Rendon-Morales said to participants.
Dr Gianluca Memoli, a Lecturer in Informatics at the University of Sussex, displayed his metamaterials technology, which shapes, directs and focuses sound in real time. Potential applications for the technology include deadening sounds to reduce noise pollution.
Andy Philipedes, Professor of Biorobotics, displayed a robot which aims to simulate the brain of a bee as it learns routes. Philipedes is using the robot and Artificial Intelligence techniques to better understand insect-inspired visual learning strategies.
Quantum technologies were also on display. Dr Fedja Orucevic, Lecturer in Experimental Physics, displayed a brain scanner which detects and measures weak magnetic fields produced by the brain. The sensor can take thousands of pictures every second compared to an MRI scanner which takes around one picture a second. William Evans, a PhD researcher with the Quantum Systems and Devices (QSD) group, showed participants a Cold atom microscope.
The Brighton Summit key note speaker, Gina Miller, an investment manager and activist who has twice led legal challenges against the government and won, was sponsored by the University of Sussex and introduced by Sue Baxter, Director of Innovation and Business Partnerships.
---
---
You might also be interested in: