News
This Sussex Life: Martin Gosling: "We have the opportunity to treat all Cystic Fibrosis patients"
By: Jacqui Bealing
Last updated: Thursday, 21 November 2019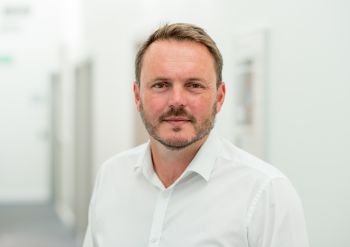 Martin Gosling, Chief Scientific Officer at Enterprise Therapeutics, which is working on therapies for Cystic Fibrosis and other respiratory diseases, describes how working with the University of Sussex as a "spin in" biotech company benefits all communities.
There are about 70,000 cystic fibrosis (CF) sufferers in the world, and the UK has the second largest population after the US. CF affects one in 2,500 births, primarily and is the most common genetic cause of death in Caucasians. Although life expectancy is around 40, the median age of death is a lot lower. Many succumb to the disease in their 20s, and that's a tragedy.
I've been interested in medicines since I was very young. My mother was training to be a pharmacy technician before she started a family. She was enthusiastic about medicines and helping people and that rubbed off on me. I ended up choosing to do a degree in pharmacology at Leeds University followed by a PhD in ion channel research at the University of Aston in Birmingham.
I came to Sussex in 2014 after working for 14 years at pharmaceutical company Novartis in Horsham, working solely on respiratory disease. The Drug Discovery Group at Sussex had already been set up and was having quite a lot of success in securing funding for projects, mostly in the neuroscience area, but they wanted to expand the remit to include respiratory disease.
To begin with I was dividing my time between being a research academic and running Enterprise Therapeutics at Sussex Innovation Centre. We established a research group that now supports four post-doctoral scientists. In exchange the University has equity in the company. I describe it as a "spin-in" company. We are a small, nimble organisation that makes and implements decisions rapidly. If we need to have a meeting, we wheel our chairs together and make a decision.
I had co-founded Enterprise Therapeutics, a respiratory biotech company, before coming to Sussex. We had started raising venture capital funding, initially with £1.6 million in 2014, which funded the first year of collaboration with the University. Subsequent investments of £2.4 million in 2015, another £4 million in 2016 and then £29 million in 2018 have enabled us to continue the close working relationship between Enterprise and the University, which is now in its fifth year.
My background is in ion channel pharmacology. Ion channels are formed by proteins, and are present in every cell of the body. They underlie a plethora of functions including being responsible for electrical conductivity and controlling hydration in your lungs. In CF patients the key ion channels that help with hydration are dysfunctional, which means patients cannot clear mucus from their airways. The mucus blocks the airways and does not effectively clear bacteria, leading to recurrent infections and the need for chronic treatment with antibiotics.
We don't yet have a cure for CF, but we believe we do have more effective therapies. At Enterprise Therapeutics we're working on drugs that help to clear this mucus, firstly though switching on an ion channel that helps with hydration, and secondly by switching off a channel that takes fluid away from the airways. Both of these approaches lead to hydration of the mucus, making it thinner and easier to clear.
Potentially, our therapies could replace a lot of other therapies. If we can restore mucus clearance, patients will clear bacteria more effectively, get fewer infections and there will be less of a need for antibiotics. Our therapies have the potential to treat other respiratory diseases outside of CF, including some asthma patients and those with Chronic Obstructive Pulmonary Disease (COPD).
Our molecules will be tested in healthy individuals next year. We've already seen success in human cells in the labs. Our hope is that we discover drugs that make it into patients and deliver clinical benefit, ideally in the largest number of patients with the highest need.
It's always important to remember that at the end there is a patient, and we want to bring benefit to them.We have regular interactions with the key CF patient charities (the CF Foundation in the US and the CF Trust in the UK) that have both provided financial support and highlighted our research and broadcast it to their patients. CF patients cannot commonly get together because of the risk of cross infection, so disseminating information in this way is really important.
There may come a day when you walk into a clinic with CF and you walk out without it because that gene mutation has been corrected. Novel gene editing therapies have the potential to achieve this but their availability is still a way into the future. There have been considerable developments in the effectiveness of drugs to treat CF in recent years, but these don't treat all patients and do not fully halt the disease. With the therapies Enterprise is developing, we have the opportunity to treat all CF patients, regardless of the type of their gene mutation, and also to offer benefits on top of current options.
This profile is part of our This Sussex Life series.
Enterprise Therapeutics was also featured in the National Centre for Universities and Businesses The State of the Relationship Report, 2019
---
---
You might also be interested in: