News
Winners of annual student enterprise competition announced
Posted on behalf of: Sussex Innovation Centre
Last updated: Tuesday, 21 January 2020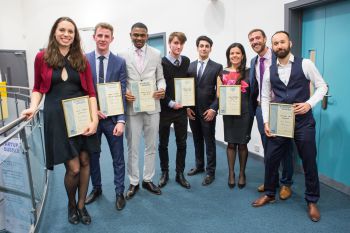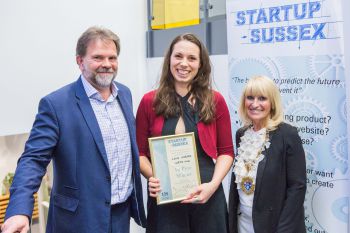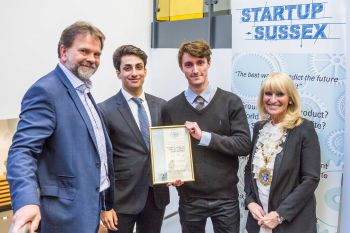 The winners of the annual student enterprise competition were announced at an awards ceremony last night (Thursday 11 April), with top prizes being awarded to a gamified grammar-training app and a low-cost test for septic meningitis. A total of £43,000 was awarded to entrepreneurial Sussex students and recent graduates.
StartUp Sussex is an enterprise competition that sees business mentors from the Sussex Innovation Centre, a wholly owned subsidiary of the University of Sussex, deliver a series of workshops for around 80 Sussex students and recent graduates. The programme launched in 2013, and since 2017 has also included the Social Impact Prize, an award specifically for social enterprises.
The 2019 winners were announced at an awards ceremony at the Sussex Innovation Centre. The event was attended by members of the local business community, University staff and students, and the Mayor of Brighton and Hove, Cllr Dee Simson.
English Literature PhD graduate Lana Harper was awarded the top prize for Write Now, an app that trains students and young professionals in the fundamentals of good written communication. Lana received £10,000 towards her business and ongoing membership, consultancy and marketing support from Sussex Innovation.
On receiving her award, Lana commented: "I wasn't expecting to win so it's just the most amazing feeling. The best thing I've taken away from this experience is learning to get out of my comfort zone, talk to people and sell myself and my idea. I feel very lucky to be here."
Lana, along with nine other finalists in the competition, presented her business plan to a 'Dragons' Den'-style panel consisting of local investors, entrepreneurs and representatives from the University earlier this week.
Simon Chuter, Student Enterprise Manager at Sussex Innovation, was on the judging panel. He commented: "Lana is a true entrepreneur in every sense, and a worthy winner of this year's StartUp Sussex title. Lana's final pitch may well have been the strongest I've seen in the five years I've been involved in StartUp Sussex."
Mark Rynston (LLB Law with Business) was awarded an £8,000 prize for his idea, TheLawMarketplace.com. His platform will act as a comparison site for solicitors and law practices, focusing on the B2C (business-to-consumer) market. Cristobal Matte (MSc Strategic Innovation Management) received a £6,000 prize for his enterprise, Airkeep. His platform helps arrange peer-to-peer storage between travellers and hosts "like AirBnB for luggage".
The new 'One to Watch' award went to Austin Okolo (FDN Biosciences). Austin received a £1,000 prize for his business Born to Stand Out, a designer clothing and lifestyle brand.
The winners of the 2019 Social Impact Prize were Mustafa Khraishi, a BSc Biology graduate, and his business partner Fergus Morris. They will use their winnings to patent protect their diagnostic 'point of care' test for septic meningitis, as well as working with Sussex Innovation's advisors to build a sustainable model around the product.
Mustafa commented: "StartUp Sussex was a really great experience, with brilliant support from the Sussex Innovation team and strong competition from the other finalists' ideas, so it feels good to be standing here now as winners."
Jon McGlashan (MSc Project Management) and Carolina Avellaneda Cadena (MSc Environment Development and Policy) were awarded second place in the Social Impact Prize 2019. They received an £8,000 prize for their enterprise Bubble Life, an ethical bath and shower brand with products entirely free of plastic packaging.
Since starting in 2013, StartUp Sussex has helped several enterprising Sussex students and graduates to go on to build successful businesses. Molly Masters won the top award in 2018 for her empowering literature subscription box service Books That Matter. The service now has more than 2,000 monthly subscribers, and has been featured by the likes of Forbes, the Huffington Post and the Evening Standard.
---
---
You might also be interested in: