News
Sussex students gave alumnus Hussain Al-Hussaini a warm welcome at real world economics talk
By: Serena Mitchell
Last updated: Friday, 9 November 2018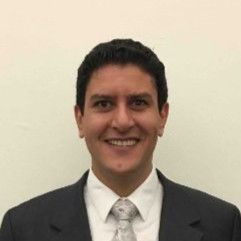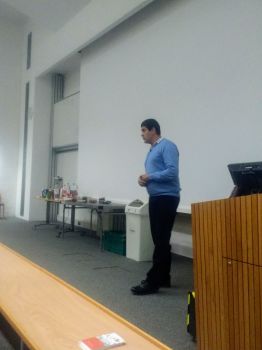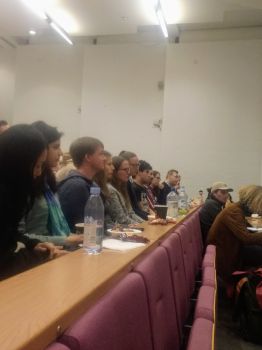 Over 100 University of Sussex students and members of the Economics Society attended a campus talk about real world economics given by Sussex alumnus Hussain Al-Hussaini (BMEc 2009).
After graduating with an MSc in Economics from the University of Sussex Business School, Hussain joined the UK Civil Service fast stream graduate programme. He has worked for both HM Revenue and Customs and now the Department for Education as an Economic Adviser on national and international campaigns such as offshore tax evasion.
Hussain shared his lively and entertaining insights into the differences between studying economic and statistical theory, and how economic modelling actually operates in a government policy environment dealing with real life projects, when data may be missing or unavailable.
For students considering a career in the Civil Service, Hussain gave some great tips. He said:
"Thousands of students graduate every year with good degrees. You need to be able to stand out from the crowd in your applications and at interview. This means being aware of and playing to your strengths. Make sure you have more than just your degree to show. Demonstrate what other life experiences you've had. In my last year of study I made sure I took on extra responsibilities such as being a student representative, which certainly helped me stand out at my Civil Service interview.
"If you want to work in a flexible, interesting environment where the real action is happening and you get to work on multiple projects, with a great level of responsibility from the outset as a graduate trainee, then consider applying to the UK Civil Service. If you want to be heavily research focussed then consider applying to think-tanks. Skills such as being able to question and being prepared to give constructive challenge are important for economic policy makers."
Besides volunteering to give talks on campus, Hussain is also a member of Sussex Connect, the global networking and e-mentoring platform for Sussex alumni and students. Thousands of alumni members across a wide spectrum of professions and industries are willing to answer questions from students and share their top tips for career development. This is a great way for Sussex students to find out more about what it's really like working in a particular type of job or sector, alongside professional careers advice from the Careers and Employability Centre.
The event was hosted by the University of Sussex Economics Society.
---
---
You might also be interested in: