News
University of Sussex Business School links with the City of London
Posted on behalf of: University of Sussex Business School
Last updated: Wednesday, 24 October 2018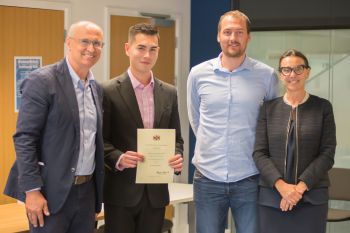 The University of Sussex Business School has joined the Worshipful Company of International Bankers' (WCIB) initiative and created a direct connection with the City of London for our students and staff.
The WCIB has nearly 700 members, with many coming from the professional ranks of the City, including a number of Finance students.
The Company maintains relationships with leading UK business schools, where it provides prizes and opportunities for interaction. A starting point for the relationship with the institution is the awarding of the annual WCIB prize.
Kouhei (George) Mosley, who graduated with a first class BSc Finance in 2018, has been named our first winner of the WCIB Prize.
The annual prize is awarded to a student for the best dissertation or extended piece of written work as assessed by faculty. Typically the work will be related to the City, international banking or an aspect of finance.
George, who will collect a certificate of merit and £300, has been recognised for his dissertation, 'Hedge Fund Performance and Risk Adjusted Performance Metrics'. He also qualifies to participate in the annual WCIB Lombard Prize competition.
Speaking after receiving the award George, said: "I was very honoured to win such an esteemed award and the opportunity to participate in the national competition.
"It was a reminder that hard work really does pay off. For any other students who are struggling with their studies and are losing faith, keep trying and I guarantee that success will come from it!
"Sussex is a remarkable place and I'd like to once again thank the School's faculty and other members of the department for their continuing support and guidance."
Professor Ranko Jelic, who developed links with the WCIB, commented: "This event marks the beginning of our links with the The Guild of International Bankers.
"We aim to strengthen our links with the City of London and provide our students with more opportunities to engage with the finance industry. We have also benefited from discussions with colleagues from the WCIB regarding recent curriculum changes on our Finance degrees.
"Winning the prestigious WCIB award is fitting recognition of George's hard work and we wish him best of luck in the national competition."
---
---
You might also be interested in: