News
Empowering book subscription box service wins £10,000 first prize at StartUp Sussex 2018
By: Patrick Reed
Last updated: Tuesday, 21 January 2020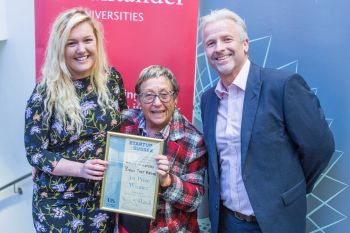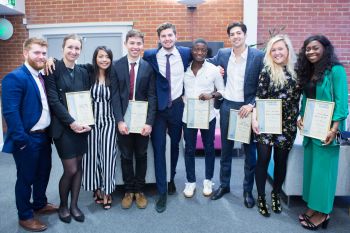 The founder of a subscription box service with a mission to empower and inspire women and girls through literature received a prize worth £10,000 to help develop her business at last night's StartUp Sussex awards.
The annual enterprise programme, delivered by the Sussex Innovation Centre - a wholly owned subsidiary of the University of Sussex - for students and recent graduates from the University of Sussex, was bigger than ever, with more entrants, finalists and winners than ever before.
The winners were revealed last night at an awards ceremony held at the Sussex Innovation Centre, emerging victorious from an initial pool of more than 80 students, who began the programme back in October.
Molly Masters, a third year English Literature student, was inspired to start Books That Matter during reading for her English Literature degree.
The service aims to deliver a new and interesting book by a female author to subscribers each month, along with two gifts made by independent creatives and exclusive access to an online book club for members to debate that month's delivery.
The subscription will be £10 a month plus postage, significantly lower than other similar services also on the market, to ensure that women and girls from all backgrounds can afford to join.
"I'm thrilled, it's completely overwhelming," said Masters. "I was completely shocked when my name was read out, because of the calibre of the other finalists.
"Winning the prize means that I'll be ready to launch Books that Matter in September, which feels amazing!"
"As always, the panel saw a great selection of finalists," said Mike Herd, Executive Director of Sussex Innovation and a member of the StartUp Sussex judging panel. "Books That Matter is a particularly fitting winner in a year where we've tried to do more to support female entrepreneurs – we were pleased to see so many women presenting their ideas in this year's finals.
"Ultimately, Molly won because she has clearly identified and already successfully engaged her target market. Her pitch on the day really blew the judges away."
The 10 finalists each presented their business plans in a pitch earlier this week to the StartUp Sussex judges, a 'Dragons' Den'-style panel consisting of local investors, entrepreneurs and representatives from the University. The panel were extremely impressed with the high standard of all the presentations.
In second place was Julian Bourne (4th year Finance) and co-founder Matt Pritchard, who received an £8,000 prize for their idea, Waffle. The chatbot that recommends real-time restaurant deals also won the People's Choice Award in the nationwide Pitch@Palace event just last week.
In third place, Portia Cronje (4th year Finance and Business) received a £6,000 prize for her enterprise, Beauty By Me. Her product is a web application for self-employed beauticians and small salon owners, helping them to manage bookings and administration.
A Social Impact Prize of £10,000 was also awarded to the enterprise with the most potential to bring about positive social change.
The winners were Joanna Kmiec, an MA student reading for a Project Management degree, and co-founder William Halle. William is diabetic, and designed their product, Deadline.Live, as a safety net for people living alone with serious illnesses. It combines an app and a Bluetooth bracelet and acts as a 'dead man's switch', alerting friends and family when the owner doesn't check in regularly.
"We're very excited, it's a dream come true for us to start making our idea a reality" said Joanna Kmiec and William Halle, founders of Deadline.Live. "It feels unreal – the next step for us is to launch a crowdfunding campaign to build our wearable, so we can't wait to start using our marketing support from Sussex Innovation."
As well as the £10,000 prize money, both winners earn the title of Sussex Student Entrepreneurs of the Year and ongoing membership, consultancy and marketing from Sussex Innovation.
---
---
You might also be interested in: