Celebrating International Colour Day 2023
Online event, organised by the Interdisciplinary Colour Association (ICA) Belgium
Sunday 19 March 2023
On March 19 2023, ICA-Belgium celebrates International Colour Day (ICD) with an online event. ICD celebrations aim to develop awareness of the importance of colour phenomena and culture in the broad domains of Art and the Humanities, Science, and Technology. For this occasion we have invited several guest speakers, each of whom is an expert in colour in their field. We invite you to sit back and enjoy our talks with Anat Lechner (Huedata Inc), Julia Hausmann (Farbarchitektur), and Alexandra Loske (museum curator).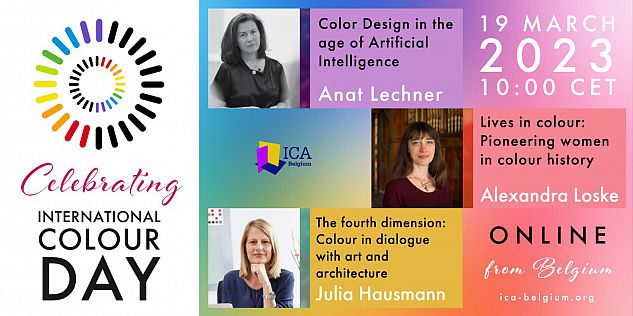 Dr Alexandra Loske will present a talk on her research project, supported by the Centre for Life History and Life Writing Research:
Lives in colour: Pioneering women in colour history