Tuesday 2 November 2021
16:00-18:00pm
Fulton Building Room 202, University of Sussex

The workshop is free and open to anyone, including all writing levels and all backgrounds.
From Black Lives Matter to Extinction Rebellion, the past few years have been marked by a time of intense fighting for our rights. Come join a creative writing workshop that explores the memories, stories and voices of protest, unrest and campaigning. You will be led by writers Umi Sinha, author of Belonging (Myriad Editions) and AFLO. the poet (Annie Whilby) to write your own story and poetry.
Free, but book is essential: Book your ticket here.
Please let us know if you have any access needs when booking.
Information on travel to the University of Sussex campus is here.
This workshop is part of Writing Our Legacy's "Shout: The Voices of Protest" project, exploring diverse younger and older voices and stories on the theme of protest, challenging the system and standing up for your rights. Brightonians will also be invited to share their memories and stories through an oral history strand.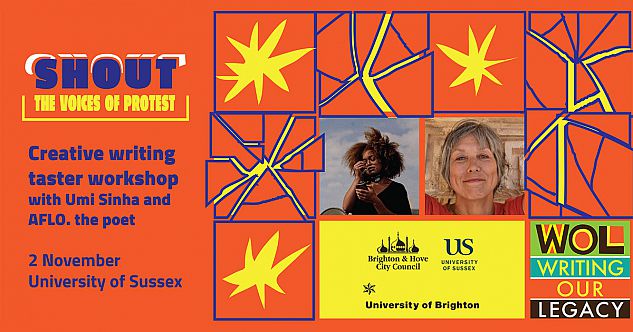 About our speakers
*Umi Sinha* is a writer, creative writing tutor and mentor and oral storyteller. She has taught creative writing at Sussex and Brighton Universities and for the Creative Writing Programme based in Brighton. She runs The GuestHouse Storytellers, an oral storytelling club for adults, based in Newhaven, East Sussex. Her first novel, Belonging, set in Sussex and India during the British Raj, was published in 2015. She is currently in the process of completing her second novel.
*AFLO. the poet (aka Annie Whilby)* is a spoken word artist, activist and academic based in Brighton. AFLO. uses poetry as a vehicle to address hardhitting topics, particularly mental health, racism, and trauma. Her voice was described as one of the most prominent in Brighton in 2020 following her involvement with the Black Lives Matter protests. AFLO. believes creativity is at the heart of the revolution and encourages her audiences to continue fighting the good fight.
About Writing Our Legacy
Writing Our Legacy is an established arts organisation that enables Black, Asian and ethnically diverse people to tell their story through writing and the creative arts. We give writers and other creatives a platform and community to feel supported, nurtured and evolve their work through the creative pipeline, from start to publication. We share stories and heritage of diaspora communities and bring them to life through various art forms for audiences to learn and take part in cultural heritage.
All welcome to our follow on event with: "Shout: The Voices of Protest" on Fri 12 Nov — Launch panel discussion event at Sussex University.
Applications are also open for Black, Asian & ethnically diverse talent development programme for 4 under 30s and 4 over 50s.
Funded by Brighton & Hove City Council and supported by the Centre for Life History and Life Writing Research and Department of English and by Brighton University.