Friday 12 November 2021
17:00-18:30
Room A108, Arts A, University of Sussex, BN1 9RH
Join us for the launch of Shout: The Voices of Protest, hosted by Centre for Life History and Life Writing Research and the Department of English at Sussex University. This event will be chaired by Dr Pollyanna Ruiz, Senior Lecturer in Media and Communication at the University of Sussex and will feature young panellists who have been involved with challenges to the system for more equitable representation, inclusion and even calling for radical overhaul.
Panellists include Caine Tayo Lewin-Turner (historian and graduate student at St Edmund Hall, Oxford), Annie Whilby/AFLO (poet and academic) and Mohammed Z. Rahman (artist and writer).
Free to take part, but advance booking required through Eventbrite. Please let us know if you have any access needs when booking. Maximum capacity: 40.
Book tickets: https://www.eventbrite.co.uk/e/shout-the-voices-of-protest-launch-event-and-panel-talk-tickets-193448889837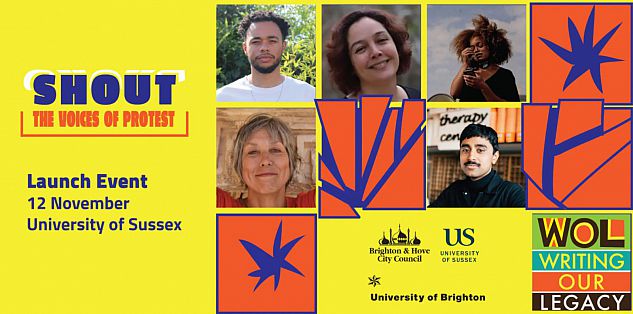 This launch event is part of Writing Our Legacy's "Shout: The Voices of Protest" project, exploring diverse younger and older voices and stories on the theme of protest, challenging the system and standing up for your rights. Brightonians will also be invited to share their memories and stories through an oral history strand.
Funded by Brighton & Hove City Council and supported by Sussex University and Brighton University.
For more information, see https://writingourlegacy.org.uk/writers-artists/shout-voices-of-protest/
Writing Our Legacy is an established arts organisation that enables Black, Asian and ethnically diverse people to tell their story through writing and the creative arts. We give writers and other creatives a platform and community to feel supported, nurtured and evolve their work through the creative pipeline, from start to publication. We share stories and heritage of diaspora communities and bring them to life through various art forms for audiences to learn and take part in cultural heritage